Non-surgical nose jobs are a temporary, cheaper alternative to one of the most desired facial procedures: rhinoplasty.
They both have the same goal: improving the visual aesthetics of your nose, but they do this in a very different way. Both methods have their limitations, pros, and cons.
This article discusses the difference between the two procedures and will answer every question you might have about non-surgical rhinoplasty.
What Is the Difference Between Traditional and Non-Surgical Rhinoplasty?
Rhinoplasty surgeries and liquid (non-surgical) nose jobs are vastly different cosmetic procedures. Let's look at them in turn.
Traditional Rhinoplasty Surgery
Traditional rhinoplasty is the most common procedure performed at our London clinic.
It's a surgery that corrects cosmetic imperfections of the nose, such as dorsal humps, broken or deviated septums, irregular nose tips, and other undesired nose shapes.
It is performed by a facial surgeon and it involves cutting through the skin on your nose and reshaping the bones and cartilages that make up the nasal structure.
The results are permanent but the recovery time is much longer when compared with a liquid nose job.
Non-Surgical Nose Job
A non-surgical rhinoplasty is a simpler, cheaper, and less risky way to correct smaller imperfections of the nose.
The results are temporary and the procedure needs to be repeated every 6 months to 1 year in order to maintain the visual changes.
It can only be used for cosmetic corrections, as opposed to rhinoplasty surgery, which can be used to improve medical issues while changing the appearance of the nose.
After a non-surgical rhinoplasty treatment, the recovery time is much shorter since it does not involve incisions on the skin.
How Is a Liquid Nose Job Performed?
Non-surgical nose jobs are performed with injectable fillers like Botox or Juvederm.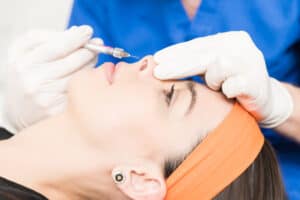 The practitioner will start with injecting topical anesthetic into the nasal ara 20-30 minutes prior to the procedure.
The treatment consists of a series of injections that are carefully applied to the skin around your nose and cheeks, and to precise locations on the nose where there is an irregularity that needs to be filled.
The filler is then carefully massaged into the desired area, making it appear more prominent, and changing its shape to make it look more attractive.
Pros and Cons of Non-Surgical Nose Jobs
Pros: Non-surgical rhinoplasty is much cheaper, faster, and less painful than traditional surgery. You will be able to see immediate results within minutes after finishing the procedure. There is little or no downtime for this kind of nose job.
Cons: Non-surgical nose jobs are temporary, meaning that you need to come back for a follow-up treatment every six months to keep the results of your rhinoplasty. The final outcome will depend on how well you care for the skin around your nose throughout this period between treatments – if it is not cared for, it will return to its original shape.
Is a Liquid Nose Job Right for You?
If you're not the type of person who can handle going under the knife, or if you are looking for an affordable and quick alternative nose job, then liquid rhinoplasty can be a good choice for you! In just a few minutes, an experienced practitioner can transform your nose.
Liquid rhinoplasty is a good option for those who have irregular noses, small nasal deformities, or broken septums that refuse to heal after surgery. This procedure may also be done on other areas of the face as well (i.e., smile lines).
However, liquid rhinoplasty might not be the best option if you wish to correct more prominent irregularities or if your nose needs structural changes.
This procedure can't be applied to correct a medical issue such as a seriously deviated septum that affects your breathing.
Non-Surgical Rhinoplasty Cost
The cost of a non-surgical rhinoplasty will depend on the practitioner you choose and where they practice.
Typically, it is cheaper than traditional rhinoplasties because there are fewer risks and costs involved for both the doctor and the patient.
For example, in London, UK, liquid nose jobs can be done by experienced practitioners from £350 and up.
Of course, you need to consider that this is the price for one treatment that needs to be repeated every 6 to 12 months. This can quickly add up over time.
FAQ
Is a non-surgical nose job worth it?
One of the biggest benefits of non-surgical nose jobs is that they require far less time.
In most cases, the whole procedure is completed in less than an hour, and even in 30 minutes or less. Following the injections, recovery is usually quick, and the results are seen very fast.
How fast are the results?
The results of a non-surgical nose job are usually seen within minutes after finishing the procedure. The final outcome will depend on how you take care of your skin between treatments, and if it is not cared for properly, the effects may wear off over time.
How painful is a non-surgical nose job?
A non-surgical nose job is significantly less painful than traditional rhinoplasty. It relies on topical anesthesia, which is applied just before the procedure.
Are non-surgical nose lifts safe?
Non-surgical nose jobs are generally safe, but an improperly administered filler can also do some damage to the blood supply and tissues of the affected area.
It's important to do your research and find a qualified practitioner who has experience with these types of nose jobs in order to avoid complications or side effects.
Can a non-surgical nose job make your nose smaller?
The nose won't get smaller, but its profile and contour will be improved. Those with a bump or hump on the nose are the best candidates for this treatment. Rhinoplasty surgery is the best option for large bumps.
Do non-surgical nose jobs have any side effects?
Bruising, swelling, and temporary redness can be experienced as minor side effects of non-surgical rhinoplasty. These usually take between a few days and a week to dissipate. The possibility of even more serious complications exists, but fortunately, these are rare.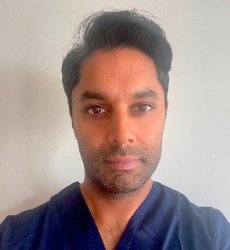 Latest posts by Sanjay Rai
(see all)