Your nose is one of the most defining characteristics of your face and the natural centrepiece of your look. A change to the shape, size, symmetry or projection of your nose can harmonise your entire your facial feature. The aim of a Rhinoplasty is to create proportion and normality to the shape and size of your nose. Patients who consider a Rhinoplasty can be for a number of important reasons and these usually include:
A fear of having photos taken at the wrong angles.
Intentionally turning your face to best hide the projection of your nose when talking to someone.
They like all other aspects of their facial features, but feel their nose is disproportionately affecting them.
Rhinoplasty has always been known as a genuine life-changing cosmetic treatment as it is one of the few surgeries where most patients have been considering it since their teenage years.
The actual Rhinoplasty procedure takes approximately 1 hour to perform, yet you may have considered wanting this procedure since you were a teenager.
We are a Multi-Award Winning Rhinoplasty team carrying over 25 years expertise in performing Rhinoplasty surgery and our team consists of some of the best Rhinoplasty surgeons in London.
We approach every patient's goal differently and decide with you, the changes you wish to make, and how they can be achieved with the ultimate aim of creating a proportionate look that takes the unwanted focus on your nasal features.
There are 10 main types of Rhinoplasty procedures that can be performed with the option of 2 different techniques of approaching the procedure. Read through the types of Rhinoplasty we specialise in below to see how a this treatment can improve the shape of your nose.
To view Before and After Pictures, click on the photo at the top of the page.
At your consultation, we will show you a more comprehensive Rhinoplasty gallery of our previous patients to help you understand more about the look you wish to achieve.
IRREGULAR NASAL TIP
Your nasal tip sits at the end of your nose, and in some patients, one side of their nasal tip looks different from the other. For example, one side may be bigger, smaller, higher, lower or slightly twisted to one side.
Since the shape of the tip of your nose is largely dependent upon the underlying cartilage, irregular looking tips usually occur as a result of your genetics or an injury.
Correction can be made to the underlying cartilage around the nasal tip so that both sides appear more symmetrical and proportionate.
DEVIATED SEPTUM / CROOKED NOSE
Many patients notice that their nose is twisted or deviated and this is more obvious with photos or when light naturally reflects of their nose
A crooked nose occurs as a result of the nasal bones and/or nasal septum not lying straight down the midline of the face. As a result, the nose looks as though it's leaning to one side.
Most of the time, crooked noses are inherited, although many times they can also occur as a result of injury or previous having undergone a previous Rhinoplasty surgery.
Our Rhinoplasty surgeon can reset the nasal bones and nasal septum to a much straighter profile.
PROJECTED NASAL TIP
An excessive nasal tip projection is a nasal tip that appears to project too far out from the end of your nose, so much so that it looks irregular. When your nasal tip sticks out too far, it can make your nose look bigger than it actually is.
There are two ways that a nasal projection can be corrected:.
To reduce the Maxilla Spine of the nose, which is a thin bone at the base of the nose that gives the nose its projection.
The Second option involves reducing the nasal tip itself by reducing and reshaping the nasal tip cartilage.
WIDE NOSE
For some people, they feel as though their nose looks fine from the side, but not from a front-facing profile.
If you have a wide nose, there are several factors which will determine the type of results that you can expect from rhinoplasty surgery.
If your nose is wide due to its underlying bone structure, then our Specialist will be able to make a reduction to the width of your nose without affecting your breathing function.
If the skin around your nose is quite thick, a surgeon will be able to change the shape of your nose and make it a bit thinner, but there will certainly be limitations to how narrow your nose can safely be adjusted to.
DEPRESSED NOSE
Typically, this is corrected by using either septal cartilage or a graft to raise the area of depression thereby raising the progile of the bridge. This is more common in ethnic Rhinoplasty.
The result is a smoother and more uniform bridge. Grafts are harvested parts of cartilage that are often taken from behind one's ear and used to build the nasal profile.
BIG NOSE
If you have a nose that obviously looks too large for your face, then there is a good chance that you can have the size of your nose proportionately reduced. Most large noses have an underlying bone structure which makes it relatively easier to reshape. Big noses will be associated with more than one feature in this section E.g a large nasal hump with over-projection and large bulbous nasal tip.
However, it is important to remember that if you do have a large nose, a rhinoplasty surgeon will not necessarily be able to give you an extremely small nose. The aim of Rhinoplasty surgery is to achieve proportion.
NASAL HUMP
Nasal Humps on the nasal bridge are generally caused by genetic over developments.
A nasal/dorsal hump can occur with any type and shape of the nose. But if your only problem is a hump, then our surgeon will shave the hump by filing down the bone on the bridge of your nose.
Though considered a relatively straightforward procedure, we will be concentrating on ensuring any reduction of the hump does not give the appearance of a more longer nose. As this is a common mistake in surgeons less experienced in Rhinoplasty, recommendations may well be made to reduce your nasal projection inclusive of the hump removal.
BULBOUS NOSE TIP
A large nose tip usually takes a bulbous form that makes the end of the nose look rounded or fat. Our Rhinoplasty surgeon will change the shape of your nasal tip by altering the tip cartilage underneath the nose so that it looks less rounded by addressing all 3 sections of the nasal tip cartilage, which are the upper, middle and lower (Alar) Section.
WIDE OR FLARED NORILS (ALAR BASE REDUCTION)
Wide nostrils, otherwise known as Alar Base Reduction Rhinoplasty tend to be more common with Latino, Afro-Carribean or Far-East Asian ethnicity.  This type of rhinoplasty is sometimes referred to as ethnic rhinoplasty.
To reduce the width of the nostrils, our Specialist will likely make a Weir excision. This involves removing tissue from the base of your inner nostrils where they attach to your cheeks.
A Weir excision can reduce the width and length of your nostrils, thereby making them look smaller.
REVISION RHINOPLASTY
Due to the growing number of patients seeking a rhinoplasty surgery, Berkeley Square Medical are seeing a sharp increase in the number of patients who have had their Rhinoplasty carried out elsewhere and have not been happy with their results. Subsequently, they have come to us for revision rhinoplasty.
The reasons for being unhappy with a previous Rhinoplasty can be that:
your previous Surgeon and you had different interpretations of your goals
your previous surgeon had little experience in Rhinoplasty even though the Surgeon may have been working with a renowned clinic.
your surgery was carried out abroad with little or no aftercare to monitor your results heal correctly.
you previous surgeon has not clarified what can realistically be achieved and what is not possible with your Rhinoplasty leading to hope of a result that was never possible to achieve in the first instance.
We not only specialise in all types of Rhinoplasty, but we are experts in correctional revision Rhinoplasty in assessing your initial results and best achieving the aesthetic goal you first wished for with a second surgery.  Rhinoplasty is not a procedure that should be consistently repeated and your cosmetic goals should be achieved the first time inclusive of the risks associated with this treatment.
If you are considering Revision Rhinoplasty, it is a very important decision to make with you and your consultation will include fully discussing what your goals are, followed by examining if a revision rhinoplasty will benefit you before making any correction. It is important that, should you be considering a revision surgery, you obtain a full copy of your previous surgeon notes to bring to your consultation with us.
PRIMARY  RHINOPLASTY COST
This is an All-Inclusive set price for all primary Rhinoplasty patients and includes the full cost of your procedure including your £100.00 consultation which is credited against the cost of your Rhinoplasty surgery.
The cost of your surgery includes:
You Consultation directly with your Consultant Rhinoplasty Specialist (including a second refresher consultation on your procedure date)
Your full Pre-Operative Assessment in preparation for your Rhinoplasty surgery
Your full procedure at our Award Winning Hospital in Harley Street, London
All medications and garments required for your aftercare
Complimentary chauffeur to take you from the hospital directly to your home in London.
24 Hour Whatsapp messenger with a member of our Rhinoplasty team and our nursing team
24 Hour telephone line to our Rhinoplasty team
All Post-Operative appointments with our nursing team and your surgeon.
FINANCE PACKAGES / COSMETIC LOANS
We do not provide Cosmetic Financing for Rhinoplasty Surgery. When considering this surgery, we like to ensure the cost of your Rhinoplasty is both transparent and clear to understand. The cost outlined above is fully inclusive of your completed procedure with no hidden costs.
As much as you may have read on the Internet already, the consultation is your opportunity to further your learning and to have a more defined idea of what you can achieve with your surgery.
Our Rhinoplasty Specialist will first listen to your concerns and understand fully what aspects of your nose are affecting your confidence. This leads to your consultation about the changes you wish to make before your surgeon advises what steps can be taken with a Rhinoplasty to a successful change. This part of your journey is where you can build confidence about whether this procedure is right for you and understand the expertise of your surgeon in how he will achieve the best results for you.
The consultation with your surgeon is:
To fully discuss what is making you unhappy about your nose and what changes you wish to achieve with your surgery.
To discuss your expectations and then consult you about what can be achieved, keeping within the boundaries of a change that is safe and successful.
Conduct an examination of the nose including the thickness and elasticity of your nasal skin, light reflection against your nose.
Explain changes to the nose that will benefit a better light reflection (especially when having photos taken) and changes that enhance other facial features from having a Rhinoplasty to achieve a natural change.
Explain the full procedure in detail to you and the precise surgical techniques that will be used to achieve your goal successfully.
If applicable, take you through before and after photos of previous patients that best relate to you and the final results other patients have achieved.
Discuss both the risks and benefits associated with a Rhinoplasty and any questions you may have for your Surgeon.
On the completion of your consultation, a second appointment with our rhinoplasty supporting team will follow, which will provide the confirmed cost of the procedure, the booking process and information to take home to read before making any decision to have your procedure with us.
We are a specialist trained clinic in Rhinoplasty Imaging at both our Harley Street and Mayfair Branches. We use the latest software to allow you to visualise your anticipated results as well as to communicate with our Rhinoplasty surgeon a clearer understanding of your desired goals.
Rhinoplasty Imaging can be performed after your consultation, as an additional optional service. All imaging is based on the medical notes made by your surgeon after fully discussing the aesthetic changes you wish to make.
RHINOPLASTY IMAGING COST:
Rhinoplasty Imaging is not Photoshop, it designed to work with your facial anatomy and the unlying structure of your nose. This means that limitations are safely in place to image more accurately to proportionate and natural changes.
Rhinoplasty Imaging with Dermal Fillers
Dermal fillers have always been a complimenting non-surgical treatment to a wide range of patients who are already considering more fullness on features around the nose.
Lips and Chin fillers are among the most popular areas patients wish to discuss to balance out their facial features. If you feel your upper lip is lacking volume or your chin is retracting inwards, predictive dermal fillers can be included in the Rhinoplasty Imaging.
NOTE: Rhinoplasty Digital Imaging is a very accurate guideline to the expectations of your surgery however, it is only a guideline and should never be treated as an absolute guarantee of your final results.
The surgical techniques used in your procedure will depend largely on the goals desired by you and our Rhinoplasty surgeon. Generally, all of the incisions will be placed inside your nose, where scarring will not be visible.
Below are the two main different techniques of rhinoplasty surgery that can be performed. Knowing about these techniques will make you much better prepared when you see your surgeon. Both techniques will have advantages and disadvantages relating to your goals and our surgeon will talk you through these before you both decide on the best technique for you.
CLOSED RHINOPLASTY
This involves making incisions only within the nose and has the advantage of leaving no visible external scars. This remains our first choice in approach on all first time Rhinoplasty procedures as well as many revision cases we treat from other clinics.
Closed rhinoplasty surgery can be used for some types of nasal tip reshaping, removing bumps or humps, reshaping cartilage and bones and to remove excess soft tissue.
Ideally, you should elect to have closed rhinoplasty as your first option. This. however, may not be possible in every case depending on the type of result that you would like to achieve.
OPEN RHINOPLASTY
Open rhinoplasty involves making an incision across the lower or mid-columella, which is skin in the middle part of your nose that sits between the nostrils.
These open incisions allow a surgeon to lift the skin upwards and over your nasal tip, thereby exposing the cartilage and bone structure that make up your nose.
Open rhinoplasty tends to be most suitable for patients undergoing complex rhinoplasty procedures such as revision or reconstructive surgery (using cartilage grafts).
You are likely to have a small scar across your columella once you have recovered from your surgery, but in most cases, this scar will fade and be barely visible.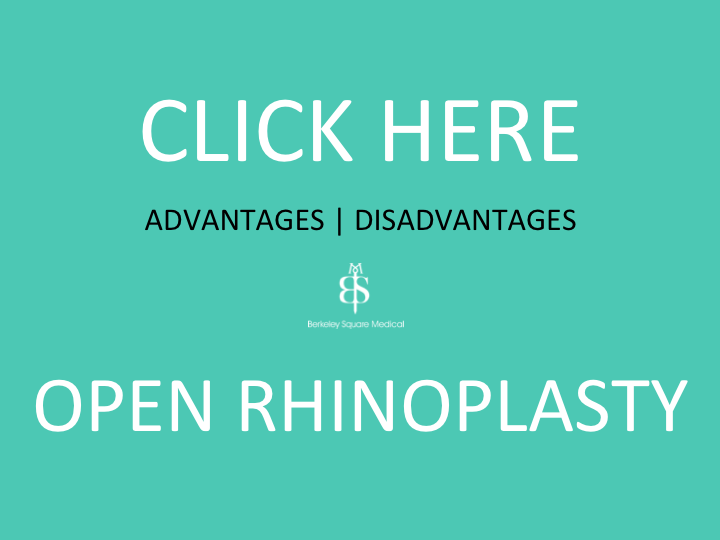 We are the only clinic in the UK to provide direct WhatsApp / SMS and Call services 24 hours a day with 2 dedicated members of our rhinoplasty team who are on hand to assist you during your recovery. Any questions answered 24 hours a day on your mobile phone.
BEFORE YOU LEAVE OUR HOSPITAL
Our priority is that your recovery is straightforward and quick. You will be provided aftercare instructions by our surgeon once he has assessed you and is ready to discharge you personally from the hospital. This will include any pain medications and antibiotics (if applicable).
We want to ensure that you can get home safely. For this reason, all Rhinoplasty patients are chauffeur driven home complimentary (Within London/Greater London) as a part of our aftercare to you.
THE FIRST 24 HOURS AFTER SURGERY
You will feel slightly drowsy from the anaesthesia until it wears off. At this point, any swelling to the nose will be at its highest and you will feel like you have a head cold/flu with a blocked nose while the swelling slowly decreases.
Many surgeons advise no showering for one week which is a very difficult task for anyone. We advise that it's ok to have regular hand showers with lukewarm water and ensuring no water is submerged onto the incisions or plasters of the nose. We will advise you of this before you leave the hospital.
THE FIRST 3 DAYS AFTER SURGERY
You will still feel slightly tired after a few days and this is generally due to the temporary change to sleeping completely on your back. Any bruising from the surgery around the sides of the nose will start to turn yellow before disappearing at this time. We advise patients to take Homoeopathic Arnica tablets to help speed up the recovery against small bruising.
You will still have swelling around the nose and swelling will not be symmetrical. This means one side of your nose will be less swollen than the other side as its reducing.
Pain and Discomfort are generally very low and can be managed with over the counter medication. In rare cases, you may feel small spasms in the breast due to nerves healing.
5 DAYS AFTER SURGERY 
You should be able to return to non-physical work after 5  days after the procedure but must avoid any strenuous activities.
7 DAYS AFTER SURGERY 
You will return to to the hospital for your post-operative review, in which any stitches are removed. Though the surgeon uses dissolvable stitches, we will check to make sure your incisions have healed. You will also be assessed with any leftover swelling and any advice to help improve your recovery time. Any international patients are able to travel by air at this point, but please speak to your surgeon if this is the case as we will advise you on blood circulation improvements on the flight to ensure safe travel.
7-14 DAYS AFTER SURGERY 
You can start to resume very light gym and cardio in moderation. You should not lift any heavy objects or go swimming /spa until 6 weeks after your surgery. This can both cause nose bleeding or bacterial infection in the nose.
Your results are instantly visible after surgery, but you must allow between 4-6 months before the nose has reached a 75% completion look. Internal swelling that is not apparent may be still reducing up to this point.
1 YEAR AFTER SURGERY 
As a part of your aftercare, we advise all patients to book in once a year to see their surgeon for a final assessment of the results. Full Rhinoplasty recovery takes up to 12 months. This is because we include all the hidden aspects of the recovery such as internal cartilage scar healing and superficial swelling reduction.
We continue to experience a year-on-year increase in the number of International patient's flying into London for their Rhinoplasty treatments at Berkeley Square Medical.
Berkeley Square Medical treated 79 Patients from outside the UK in 2017, patients mainly arriving from Central Europe, Scandinavian and Baltic Countries as well the Middle East and a select few from the USA.
International Patients considering Berkeley Square Medical for their Rhinoplasty must consider several factors to ensure your journey through your treatment is smooth and stress less.
Step:1 – BOOKING YOUR CONSULTATION
Your online enquiry for a Rhinoplasty consultation will provide you with our online booking form so that you can see available consulting dates with our Rhinoplasty Specialist. This provides live times/dates well in advance to book before arranging your flight into London for your consultation.
Rhinoplasty is not a surgery we recommend advice being provided over Skype/Facetime. We will advise, that should you be considering surgery at Berkeley Square Medical, you consider only meeting your Surgeon in person for informed decision making.
Step:2 – CONSIDERING YOUR SURGERY DATE
When booking your appointment online, you may want to enquire with us about what available dates of surgery will be provided to you so that you can consider both consultation and potential dates of surgery.
In the UK, we must allow 14 days from the date of your consultation before proceeding with your treatment. This is to ensure you have been given enough time to make an informed decision about your Rhinoplasty surgery.
Usually, our waiting list for surgery will be between 3-4 weeks after your consultation, so do consider that you will most likely travel to London on two occasions.
Travelling to London for your Consultation and Pre-Operative assessment
Travelling in for your Surgery.
Step:3 – YOUR CONSULTATION
Upon confirming your consultation booking, you will then make your preparations for your flights into London to attend your Surgeon Consultation.
Your Surgeon consultation will take you through the complete desired changes and aesthetic outcomes achievable for you. A treatment plan by your surgeon will then be finalised with you at that appointment.
Further to this consultation, you will also have a second appointment with a member of the Rhinoplasty team, to go through pre-arranged dates of surgery, complete your pre-operative assessments and guidance on your journey to complete your Rhinoplasty.
Attending your appointment, you may also consider confirming your date of surgery at your appointment and pay your deposit to confirm your Rhinoplasty Surgery.
Step:4 – YOUR SECOND APPOINTMENT
After your consultation and departing from London, all aspects in preparation for your surgery will be handled by the Rhinoplasty team by phone/email communications. This includes the confirmation of your surgery, tips and advice in preparation for your Rhinoplasty and any final payments to be made and courtesy calls from our team to ensure you are preparing for your treatment correctly.
Step:5 – PREPARING FOR YOUR SURGERY
You will be required to arrange your flights in advance of your surgery. It is imperative that you fly into London at least 1 night before the surgery day to ensure your journey to the hospital on the morning of your procedure is smooth and stress-free.
Berkeley Square Medical will have assisted you in advising hotels close to the hospital in central London and depending on your budget, we will advise a hotel close to us accordingly.
Step:6 – DAY OF YOUR SURGERY
Rhinoplasty is considered a day case surgery so on the day of your surgery, you will likely be admitted to our hospital early in the morning and be ready for discharge by mid-afternoon.
You will have a chauffeur to drive you back to your hotel when you are fit to be discharged. The benefits to staying at a hotel close to us are simply that you may return for daily check-ups with our nursing team while you are staying in London. If also gives the nursing team to visit you at your hotel in the rare case it is needed.
 Step:7- RETURNING HOME / POST-OPERATIVE
This is one of the most important aspects of your aftercare, the travel home. There are various options that must be considered.
If your flight time home is less than 4 hours (I.e Within Europe), you are able to fly home after 3 nights after the procedure.
If your flight home is more than 4 hours (I.e USA), we recommend you do not consider flying for 5 nights.
In all circumstances, patients are required to have a post-operative assessment on day-7 after their surgery.
It is ideal to stay a full 6 nights after your surgery and attend your post-operative with our nursing team a week after surgery before departing London. This means that we would perform the post-operative appointment.
NOTE:
A growing number of international patients last year could travel home 3 days after their surgery and this is absolutely fine to consider for international patients.
What our Rhinoplasty Team will want to organise, is that there is an appointment arranged with a doctor or nurse in your home city that can perform the post-operative assessment 7 days after the surgery. This includes removal of the nasal splint and a simple examination of your wellbeing.
This can be organised by Berkeley Square Medical's Rhinoplasty team to communicate all instructions to a medical professional in your home city and for you to attend locally for this simple appointment.
Step:8 – YOUR AFTERCARE
We appreciate that returning to London for regular check-ups as frequently as patients living in the UK will be more limited. We include the following services to ensure we can stay in close contact with you:
As an international post-operative patient, the use of facetime/skype is available for you
You will also be provided with a 24hour WhatsApp line with our Rhinoplasty nursing team for any questions, photos and communication with your Rhinoplasty surgeon included.
It is ideal to book to see us at least once in the first 12 months after surgery, so any last minutes' travel arrangements made into London will include prioritisation of your review appointments.
The Disadvantages of Considering Your Rhinoplasty with us as an International Patient:
We enjoy having regular personal appointments with our Rhinoplasty patients and this could be an appointment every 3 months in the first year. As an international patient, the disadvantage is this service may be limited to enjoying our communications with you by phone/email/WhatsApp more often than seeing you personally.
The Advantages of Considering Your Rhinoplasty with us as an International Patient:
For virtually all International Patients that consider Berkeley Square Medical for their Rhinoplasty surgery, they have concluded that surgery results and outcomes by Surgeons in their respective country of residence may be limited compared to our own specialisation in Rhinoplasty Surgery. For this reason, they consider our Specialists and are keen to learn about the journey of having their surgery at our London Branch.
How long does the Rhinoplasty surgery take?
The surgery takes around 45-60 minutes and is performed under general anaesthetic so you are completely asleep during the procedure.
What will I look like when I leave the hospital?
A very common question! You will have a small plaster on the bridge of your nose and separate padding covering your nostrils. The padding under the nose can be removed after 24hours at home and the small plaster on the bridge of the nose is removed by our nursing team at your 7-day post-op appointment. Remember that we chauffeur you home, so you will have the best possible privacy when leaving the hospital.
Patients often think that there is bandage wrapping around the entire nose covering nose and cheeks. This is not the case and Rhinoplasty has minimal need for plasters after surgery.
Will there be any scarring after Rhinoplasty?
Scarring from the incisions inside the nose so scars are not visible after surgery. However, if surgery is required outside of the nose then scarring will be visible on each side of the nose. These are generally very fine lines that heal quickly.
How long until I see my final results?
Though your initial changes will be instant, you must allow up to 12 months until the final results. After the swelling goes in the first 7-28 days you will have a good idea of your final aesthetic change. The reason we allow 12 months to see your final results is that includes "behind the scenes" recovering of bone, cartilage scarring etc, that is not visible on one's nose.
How long will the results of Rhinoplasty last?
Results of rhinoplasty are permanent, except for unforeseen circumstances associated with an accident or trauma and the natural ageing process.
When can I return to work after Rhinoplasty?
You will be able to return to work after 7 days but before then you will be under our guidance through our aftercare instructions and you will be advised to return after for a follow-up consultation before returning back to work. On returning to work, you will no longer have any plasters and in most cases, any inflammation and gentle bruising should have almost disappeared.
Is Rhinoplasty a Day Surgery or an Overnight Stay?
Both are an option. We like patients to ideally stay for one night if there is any chance they will not be able to rest and recover from their procedure. This may be because of parental responsibilities. However, in most cases, patients will have their surgery in the morning can be discharged by the late afternoon.
Why do Rhinoplasty prices range so greatly?
This is for many reasons but mainly it is down to the experience of a Rhinoplasty surgeon. Your nose is the centrepiece of your face and choosing a less experienced surgeon for a cheaper price can leave you more disappointed with your entire facial features, not just your nose.
We commonly treat patients that have previously paid in the region of £1500-£4000 for a Rhinoplasty both in the UK and abroad that have required a second surgery with us to correct initial mistakes. When considering this surgery, consider the right surgeon, not the cheapest price.