Rhinoplasty is one of the most common plastic surgery procedures performed on men today. With the rise of social media, we appear in more places than ever before. Feeling good about our facial features has never been more important.
Thanks to this, an increasing number of male patients decide that it's time to fix that unwanted nose deformity making them uncomfortable in social situations.
No more fear of having photos taken at the wrong angles or trying to turn their faces in a way that best hides the projection on their nose.
If you are a man who is unhappy with the appearance of your nose, you have come to the right place.
We are a multi-award-winning team carrying over 27 years of expertise in performing nose surgery and our team consists of some of the best rhinoplasty surgeons in London.
Rhinoplasty surgery has always been known as a genuine life-changing cosmetic treatment as it is one of the few surgeries that most patients have been considering since their teenage years.
A male nose job can be used to correct a variety of cosmetic issues, including:
a hump or bump on the nose
drooping nasal tips
a nasal bridge that is too wide
the size and shape of the nostrils
reshape a bulbous tip
Rhinoplasty surgery can also correct functional problems, such as:
deviated septum
broken nasal structure
breathing difficulties
sports and other injuries
As you can see, male patients are turning to us with a wide variety of issues and all of the above problems can be fixed with cosmetic surgery given that you are a medically suitable candidate.
To view Before and After Pictures, click on the photo at the top of the page.
At your consultation, we will show you a more comprehensive Rhinoplasty gallery of our previous patients to help you understand more about the look you wish to achieve.
Mr. Taimur Shoaib

(BAPRAS ISAPS UKAAPS PLAST)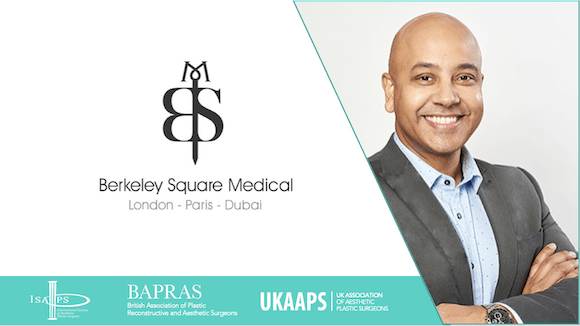 Mr. Taimur Shoaib is one of the UK's leading rhinoplasty surgeons, specializing in all cosmetic and reconstructive nose reshaping procedures. He has won multiple awards and has been regarded as a top facial plastic surgeon by fellow colleagues.

Using safe surgery guidelines and techniques, he achieves life-changing aesthetic results for his patients.

Over 18'000 patients have been treated by Mr. Shoaib, including hundreds of patients from the Middle East and Europe each year.
TIP RHINOPLASTY
Generally, irregular-looking nose tips result from your genetics or an injury to the underlying cartilage. Male rhinoplasty patients sometimes have a difference between one side of their nose tip and the other.
The size, height, or inclination of one side may be different, or it may be slightly twisted.
Bulbous or projected nasal tips are also common.
In order to achieve a more symmetric and proportionate appearance around the nasal tip, the underlying cartilage can be corrected.


DEVIATED SEPTUM SURGERY
The reason for a crooked or deviated nose is that the nasal bones or nasal septum do not line up with the face's midline. Because of this, the nose seems to be tilted to one side.
Generally, crooked noses result from genetics, but they can also develop as a result of trauma or a past rhinoplasty procedure.
During rhinoplasty surgery, we can reposition the nasal bones and nasal septum to achieve a straighter profile.
WIDE NOSE CORRECTION
Some people feel that their nose looks too wide, and they wish to make it narrower. This issue can be caused by different factors and the main cause will influence the results that can be achieved via cosmetic surgery.
Our specialist will be able to reduce the width of the nose, without impairing your breathing ability, if your nose is wide because of its underlying bone structure.
If, however, the extra width is caused by the thick skin around your nose, it is possible for a surgeon to alter the shape of your nose and make it a bit thinner but there are limitations as to how narrow your nose can be safely made.
SIZE REDUCTION
Having your nose proportionally reduced is a feasible option if your nose appears to be too large for your face. There is usually underlying bone structure in large noses, which makes it relatively easier to shape.
Usually, a big nose will have more than one feature in this section, such as a large nasal tip with over-projection and an oversized nasal hump.
A rhinoplasty surgeon may be able to adjust the overall size of your nose to a certain extent, but there is a limit to this.
Ultimately, nose surgery is designed to achieve a balanced appearance, not completely changing your facial structure.
DEPRESSED OR "SADDLE" NOSE
These types of procedures are more common with ethnic rhinoplasty.
A graft or septal cartilage is used to raise the depression and thus restore the normal height of the bridge.
As a result, the bridge becomes smoother and more symmetrical. The nasal profile is reshaped using cartilage grafts, which are taken from behind one's ears.
BIG NOSE
If you have a nose that obviously looks too large for your face, then there is a good chance that you can have the size of your nose proportionately reduced. Most large noses have an underlying bone structure which makes it relatively easier to reshape. Big noses will be associated with more than one feature in this section E.g a large nasal hump with over-projection and large bulbous nasal tip.
However, it is important to remember that if you do have a large nose, a rhinoplasty surgeon will not necessarily be able to give you an extremely small nose. The aim of Rhinoplasty surgery is to achieve proportion.
NASAL HUMP REMOVAL
Generally, the nasal hump on the bridge of the nose is caused by genetic abnormalities.
There can be a nasal/dorsal hump regardless of the type and shape of the nose. In the case that your only problem is a hump, our surgeon can file down the bridge of your nose to remove the hump.
We will be focusing on what can be done to ensure any hump reduction does not result in an elongated nose.
Rhinoplasty surgeons less experienced in this procedure make this mistake often, and you may well be recommended to reduce your nasal projection inclusive of removing the hump.
REVISION RHINOPLASTY SURGERY FOR MEN
In addition to the surge in patients requesting rhinoplasty surgeries, Berkeley Square Medical has seen an increase in patients who have undergone rhinoplasty elsewhere and were dissatisfied with their results.
This usually happens due to the inexperience of the surgeon, a miscommunication issue where the realistic results were not properly assessed before the nose reshaping surgery, or a lack of proper aftercare.
Rhinoplasty is our main specialty, but we also have expertise in correctional revision rhinoplasty. After assessing your initial results, we will work with you to achieve the aesthetic goals you hoped for in the first place.
If you are considering a revision rhinoplasty, it is very important to discuss your goals beforehand. Then your surgeon will consider whether a revision rhinoplasty will benefit you before making any corrections.
You are strongly advised to obtain a copy of your previous surgeon's notes for our review if you are considering revision nose surgery.
We offer an all-inclusive set price for patients seeking primary rhinoplasty which is currently:
£7950.00.
This price covers everything from consultation, the full procedure, all medications and aftercare garments, a complimentary drive to your London home or hotel, 24-hour messaging service and hotline, and all post-surgery appointments.
It also includes your £100.00 consultation fee, which is credited against the overall cost.
FINANCE PACKAGES / COSMETIC LOANS
We do not offer cosmetic financing for rhinoplasty surgery.
If you are considering this surgery, we would like to ensure the cost of your rhinoplasty is both transparent and easy to understand.
You are only required to pay the above price for your completed procedure. There are no hidden costs involved. 
**(This may exclude a COVID-19 Coronavirus Detection Test if App).
The process starts with a consultation. Our specialist rhinoplasty surgeon will see you and assess your situation, talking you through the possible solutions and results you can expect from surgery.
Here is a detailed list of the goals we are trying to achieve:
A full discussion about the reasons you are unhappy with your nose and what you hope to achieve with the surgery.

To discuss your expectations and then consult you about what can be achieved, keeping within the boundaries of a change that is safe and successful.

To discuss your expectations and then consult you about what can be achieved, keeping within the boundaries of a change that is safe and successful.

To provide you with a detailed explanation of the full procedure and the surgical techniques that will be used to accomplish your goal.
Our rhinoplasty support team will then meet with you for a second consultation, during which you will learn the pricing of the procedure, the booking process, and information that you can take home to read before deciding whether to have the male nose surgery procedure with us.
Rhinoplasty Imaging is the specialty of both Harley Street and Mayfair branches of our clinics. To give you a better understanding of your expected results and to give your rhinoplasty surgeon a clearer idea of which goals you wish to achieve, we use the latest visualization software.
Rhinoplasty imaging is available as an optional service after your consultation. After fully discussing your aesthetic goals with your surgeon, all imaging will be done based on the notes of your surgeon.
You may also have imaging done before your consultation, and your Surgeon can then discuss your before and after results with you.
Rhinoplasty Imaging comes at a cost of £150; this is in addition to the consultation fee for your surgeon (£100).
RHINOPLASTY IMAGING COST:
Rhinoplasty Imaging is not Photoshop, it designed to work with your facial anatomy and the unlying structure of your nose. This means that limitations are safely in place to image more accurately to proportionate and natural changes.
NOTE: Rhinoplasty Digital Imaging is a very accurate guideline to the expectations of your surgery however, it is only a guideline and should never be treated as an absolute guarantee of your final results.
Rhinoplasty surgeries are not fundamentally different for men and women.
The day starts with the final check from your surgeon, making sure you are ready for the surgery, and obtaining your final consent.
You will then receive your local anesthetic and be made comfortable in the operating room.
The surgery is usually completed within 1 or 2 hours.
Depending on your goals and the areas that need to be fixed, your doctor might perform an open rhinoplasty or a closed rhinoplasty.
CLOSED RHINOPLASTY
Closed rhinoplasty is our preferred option as it is a less invasive procedure performed via incisions through the inside of the nose. It leaves no visible scars, and it can be used to fix many issues including a deviated septum, removing a hump, smaller corrections of the bone and cartilage structure, and most nose tip corrections.


OPEN RHINOPLASTY
Open rhinoplasty involves incisions on the outside of the nose allowing the surgeon better access to the central nasal structure. This type of surgery is usually reserved for more complex cases such as reconstructive surgery or the use of cartilage grafts.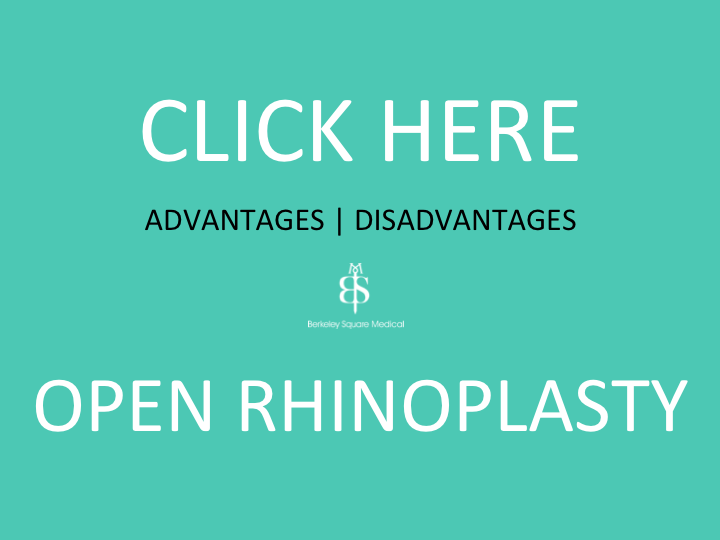 When you wake up after the procedure you will remain rested for about an hour. Expect some dizziness and mild discomfort at this stage, as well as the feeling of a blocked nose.
Our clinic is the only one in the UK to provide direct WhatsApp, SMS, and Call services 24 hours a day, 7 days a week. We have two trained staff members who are always available to help and assist during your recovery period. Our London rhinoplasty team is available 24 hours a day to answer any questions.
BEFORE YOU LEAVE OUR HOSPITAL
You will have a splint placed on your nose, which will support it during the healing process. You may also have some packing inserted into your nostrils to stop any bleeding.
You will be able to go home later that day or the following day.
Before you leave the clinic, you will receive your detailed care instructions and any painkillers should you need one.
Your safety is paramount for us, so we have included a complimentary chauffeur service to your home or hotel within the Greater London area included in our rhinoplasty package price.
THE FIRST 24 HOURS
The anaesthesia will temporarily leave you feeling tired until the effects wear off. At this point, you will probably be tired from a long day and your nose will swell and be blocked.
A slight discharge may be present during the first 24 hours, and padding is provided to absorb any bleeding that occurs.
THE FIRST WEEK AFTER SURGERY
The discomfort usually peaks during the first 1-2 days after the procedure, and you will gradually feel better afterward.
Visually, the peak point for swelling and bruising usually occurs on the second or third day and will start to subside from that point.
You will need to take it easy for the first few days and avoid any strenuous activity. It is also important to sleep with your head elevated during this time.
On the 7th day, you will return to the clinic for your first post-operative review. Your surgeon removes your splint and any remaining stitches and thoroughly reviews your healing process.
THE FIRST MONTH AFTER THE OPERATION 
You should be able to return to work after a week or two, but you will need to avoid wearing glasses or sunglasses for at least six weeks.
During this time, you should see a steady improvement in both the size and the shape of your nose, getting closer to the desired result.
THE FINAL RESULTS 
You will have your second and third appointment with your surgeon at the 3-month and the 6-month mark.
It will be time for the first post-surgery photos, and you will be comparing your before-and-after photos with your surgeon.
The healing process of your nasal bones will also be assessed, along with the other aspects of your recovery.
Your final results will be visible after the swelling and bruising have gone down, which can take up to six months.
You can read more details about the recovery and aftercare process here.
Am I a suitable male rhinoplasty patient?
The best way to determine whether you are a suitable candidate for nose surgery is to come in for a consultation.
During this, your surgeon will be able to assess your health, skin quality, and the specific areas that you would like to address.
They will also talk through the different types of procedures available as well as what results you can expect from cosmetic surgery.
Why do men get nose reshaping surgery?
Gaining confidence in social situations is one of the most popular reasons.
Some men seek out rhinoplasty to look more attractive for their professional lives while others want to attract a new partner.
Many male rhinoplasty patients feel that a perceived imperfection of their nose – a central facial feature – is making them self-conscious and adds to their anxiety.
Successful nose surgery can significantly improve one's life in this regard.
Another popular reason is fixing a broken deformed nose following a sports injury. A healthy lifestyle is all the rage and boxing, football and other contact sports often result in injuries.
A nose job can be an effective way to address these concerns and create a more balanced, attractive facial appearance.
In fact, rhinoplasty is the second most popular cosmetic surgery procedure for men, after liposuction.
Are male nose jobs worth it?
Most patients would agree that the benefits of rhinoplasty far outweigh the risks and downtime associated with surgery.
A successful nose reshaping can result in increased self-confidence, improved breathing, and a balanced facial appearance.
If you are considering rhinoplasty, we recommend that you come in for a consultation so that we can assess your individual case and give you an idea of what to expect.
For more information about booking your Rhinoplasty Consultation or to request further information, enquire online, email our Rhinoplasty team at info@berkeleysquaremedical.com or contact us on 02078877607.