What is VASER Hi Def Liposculpturing?
VASER Hi Def Liposculpturing, VASER Hi Def Liposculpture, VHD Liposculpturing are synonymous terms that can be used interchangeably.
VHD Lipo is the newest and most advanced technology and techniques for enhancing, augmenting, developing out and defining the muscular structures of the abdomen (six pack abs), pectoral muscles (pecs), obliques, latissimus dorsi (lats), serratus, back muscles, biceps and triceps. The ultimate objective of VHD Lipo is to give the man that ripped athletic look (click for example of one of our patients).
Make no mistake; no other liposuction technique can produce these types of results because they weren't designed to. Before we get into further details about this revolutionary technique allow us to provide you information about the technology and science of VASER. VASER stands for Variable Amplitude Sound Energy Resonance and it is an ultrasonic instrument.
VASER is produced by Sound Surgical Technologies. Their scientist and biomedical engineers developed a patented technology with their ultrasonic unit called "LipoSelection". In LipoSelection the Vaser's ultrasonic sound waves are selective to target the fat. The sound waves break up fat for removal while leaving nerves (tiny nerves that are in the fatty layer), blood vessels (tiny blood vessels in the fatty layer) and connective tissue largely undisturbed.
The VASER treatment emulsifies the fat (turns it into a milk shake like substance); once emulsified, the fat is easily removed (by a special cannula) with minimal disturbance to the important structural tissue to yield skin retraction and smooth results. This technology also promotes a relatively bloodless procedure that is also less physically taxing on the surgeon and therefore one can focus more finesse and mental energy on the procedure (for your information liposculpturing procedures are the most physical and strenuous procedures of all of the cosmetic surgical procedures).
Who is a candidate for VASER Hi Definition Liposculpturing?
The best candidates for VHD Lipo are those who are at or near ideal weight (BMI of 22-25) and they have good skin elasticity (meaning that they don't have loose skin). Although candidates with less than optimal conditions can also get fantastic results. Ultimately the surgeon is the judge as to who would benefit from VHD Lipo.
What are the risk and complication of VASER Hi Def Liposculpturing?
These procedures are very safe with rare complications. The main complications are bleeding and infection which are less than 1%. For an idea of risk and their frequency please review the following information on.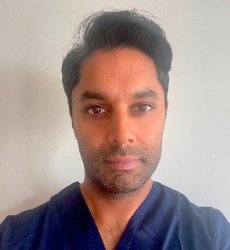 Latest posts by Sanjay Rai
(see all)