When diet and exercise doesn't work to get rid of a double chin?  If diet is strict and exercising all the time, but nothing changes. Is liposuction on the chin the only or best way to get rid of the double chin?
Genetics plays a large role in where and how much fat is deposited in certain areas of the body, and whether or not it is "diet and exercise-resistant."
Some individuals have 'sagging' necks primarily due to fat accumulation below the jawbone (mandible). In some cases, liposuction alone can significantly improve the neck appearance.
Liposuction is also frequently combined with surgical neck rejuvenation, and in selected cases some direct excision of fat (through a hidden incision below the chin) is performed.
The reduction of fat in the area below the jawline and in the anterior neck almost always makes the neck appear longer, and makes the patient's profile appear more elegant or refined.
Liposuction on Chin
Typical areas on the body where liposuction is performed are the thighs, abdomen and buttocks, but many people are now opting for the fat under the chin. This isn't typically a very uncomfortable procedure, and the results can be quite good. Given the relative comfort of the procedure, you might think that your results will be less impressive; nothing could be further from the truth!
Generally speaking, the results from liposuction of the chin are the most impressive and consistent. With good technique and proper patient selection, the change in appearance of this area with liposuction can be remarkable.
It's a tricky area, as exercise can have little to no effect on Chin Liposuctionthe chin area. So to remove the famous "double chin" the surgeon will make a very small incision under the chin, insert a small stainless steel tube known as a cannula and suction out the fat from between the skin and muscle.
The suctioning process creates small tunnels through the fat layer that later collapse after the operation, creating a thinner body contour, thus eliminating the appearance of a double chin. This procedure can be performed with only a local anesthetic and is considered outpatient surgery.
Risks, Side Effects and Safety for Liposuction on Chin
Common side effects of liposuction include bruising, swelling, pain and numbness. Scarring will vary per individual based on hereditary factors that affect skin healing, but because the incision for chin liposuction is so small it will usually be veyr miniml.
Most common side effects last for a brief period of a few weeks. Depending on the area of the body that was operated upon, limited mobility may also be a temporary side effect.
In some rare circumstances complications may arise due to liposuction surgery. Patients undergoing liposuction should be aware that infection, skin necrosis, contour irregularities and burns are all possible complications.
As chin liposuction does not require general anesthesia and is for a small area on the body, it is one of the safest liposuction procedures with a very low chance of complications.  For more information please visit: https://www.berkeleysquaremedical.com/advanced-lipo-sculpture/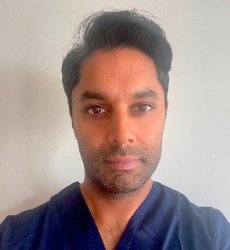 Latest posts by Sanjay Rai
(see all)