When you are recovering from a nose job, it is important to know how to clean your nose properly in order to avoid infection and maintain a healthy appearance.
If you are unsure what to do with the crust in your nose after rhinoplasty, here are the steps for cleaning it the right way.
Remember that these are just general recommendations, if your surgeon gives you a different set of instructions, follow them as he/she knows best what has been done to your nose.
How to get dried blood out of your nose after surgery?
After the procedure, your nose surgeon will likely recommend keeping the inside of your nose moist by using saline nasal spray 3-5 times a day but it's still common to have dried blood accumulating around the edges of your nostrils.
This is perfectly normal and you can clean it off with the following steps:
Use saline or sterile water (non-alcohol-based) on cotton balls or gauze pads to gently remove the crusting from the surface of your nose.
Using a cleaner, wash the inside of your nose with a nasal aspirator bulb syringe device that has been sterilized with alcohol wipes.
Rinse out the inside of your nose thoroughly using only saline water solution without touching any other part of your face.
Pat dry gently but make sure you don't apply any pressure on your nose.
Cleaning your nose with a Q-Tip
Some patients are asking if they can use Q-tips to clean off dried blood from the inside of their nose. You need to be very careful with this.
Using a Q-tip near the edge of your nostrils is OK but you must avoid going any deeper than that. If you stick any object to the inside of your nose while it's still healing from the surgery you can damage parts of the reconstructed nose structure.
Start by soaking the Q-tip in saline water or dilute hydrogen peroxide. Gently soak the dried blood with the moist Q-tip until it loosens and you can remove it.
Follow the steps outlined above to clean the deeper parts of the inside of your nose.
How long after rhinoplasty can I wash my nose?
You can start washing the outside of your nose after 7-10 days, once the splint covering the surgery area has been removed. Make sure you do this gently until your nose fully heals in 4-6 weeks. At that point, you may wash your nose as normal.
You can start cleaning the inside of your nose with the rinsing method as soon as the nasal packing is removed and you have some blood accumulating that needs to be cleaned.
How long after the procedure that nasal packing is removed depends on your surgeon. There are doctors who leave this in for up to 7 days.
At Berkeley Square Medical, we prefer removing it before you leave the hospital as we have found having the nasal packing in is the single biggest source of discomfort for most patients after rhinoplasty surgery.
We can do this as we pay extra attention to proceed carefully and gently during surgery and your cotton gauze is removed pain-free while still under the effect of local anesthesia.
How often should I clean my nose after rhinoplasty?
You can clean the inside of your nose 2-3 times a day if needed. Following the recommended moistening procedure should keep the crusting of dried blood to the minimum and you might find that cleaning once a day is enough.
As a reminder, your doctor is likely to recommend using a saline nose spray or rinsing with a saline solution 4-6 times a day to keep the inside of your nose moist as it speeds up the healing process.
Using vaseline or other antibiotic cremes after you have rinsed and dried your nose will help to avoid dried blood buildup.
Both nasal solutions and ointment creams are available from a pharmacy over-the-counter.
What comes out of your nose after surgery?
You will likely have a mixture of blood and mucus coming out of your nose for days after a rhinoplasty procedure.
This is normal but it's important to follow the cleaning recommendation from your surgeon as cleaning this blood and mucus will greatly help the healing process.
Letting dry chunks of this mixture built up can harbor bacteria and can potentially lead to infection.
Cleaning the outside of the nose after rhinoplasty
Cleaning the outside of your nose can begin with the removal of the splint. This usually happens after 7 days during your after-surgery visit with your surgeon.
You can resume your normal daily face cleaning but make sure to be gentle until your nose fully heals in 4-6 weeks.
If you find residue of glue from the removed plasters you can carefully clean it off with a sterile solution or alcohol on a cotton swab or a piece of gauze.
Avoid the use of skin cleansers that require vigorous rubbing to wash them off. Also, hold on with the removal of blackheads by nose strips or similar methods until full recovery from the surgery.
If in doubt, always consult with your surgeon before you do anything that might jeopardize the results of your nose surgery.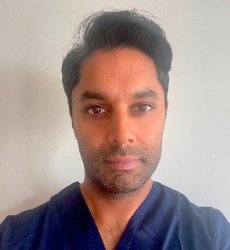 Latest posts by Sanjay Rai
(see all)