When you undergo rhinoplasty surgery, there will be quite a few details you need to be careful with during the recovery process. Things that you might take for granted, like wearing glasses, drinking hot or cold drinks, your sleeping position, or blowing your nose, may have different guidelines after the surgery.
It is important to be extremely cautious when performing any sort of nasal activity, as swelling and bruising can cause the nostrils to become very sensitive following the surgery.
When can I start blowing my nose after rhinoplasty?
Blowing your nose may seem like a simple task; however, it is important to proceed with caution. Immediately after rhinoplasty surgery, patients should avoid blowing their nose for at least 2-3 weeks.
Blowing your nose too soon can cause the sutures to rupture and the cartilage of the nose to shift out of place. Forcing air through the nose could also cause bleeding and further complicate the healing process. If you have a cold or are congested, try to avoid blowing your nose and opt for using a saline spray instead. After 2-3 weeks, it is safe to blow your nose gently.
If you are dealing with a blocked nose, here is our detailed guide on how to clean your nose.
How do you stop a runny nose after rhinoplasty?
As mentioned above, rinse your nose with a saline spray during the first few weeks. Once you've reached the point in your healing process where it is safe to gently blow your nose, do so one nostril at a time and use minimal force.
Make sure to use a tissue that is soft and non-abrasive on the nose so as to avoid any trauma. It is important to remember that full healing of your rhinoplasty can take up to 6 months, so it is best to be gentle with your nose during this time.
Can blowing my nose damage rhinoplasty?
Vigorous nose blowing can cause a great deal of pain and may even result in further damage to the nose. It is not likely that gently blowing your nose will damage the surgery results, but it may delay the healing process and extend recovery time.
Contact your doctor immediately if you experience excessive bleeding or pain while blowing your nose post rhinoplasty. Your doctor may recommend that you keep using a nasal spray or take other steps to help reduce any nasal discomfort. Be sure to follow all instructions from your doctor carefully and avoid blowing your nose too aggressively or too often during the healing period. It is essential to take good care of your nose post-rhinoplasty to ensure a successful outcome.
Is running nose normal after surgery?
It is not uncommon for patients to experience a runny nose after rhinoplasty. This usually occurs as part of the body's natural healing process and can last up to 6 months post-surgery. A runny nose is your body's way of removing excess fluid from the area, so it is important to allow this process to happen.
Is it OK to sniff after nose surgery?
Sniffing a few times after rhinoplasty is generally safe as long as you do it gently and with minimal force. Constant sniffing is not encouraged as this can aggravate the nose, cause further damage to the sutures, and delay healing. The other issue is that sniffing will not fix a runny nose, as it does not actually remove the extra fluid. If you feel discomfort or pain when sniffing, avoid it until your doctor has given the okay.
Here is another article on what not to do after nasal surgery.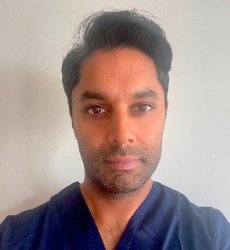 Latest posts by Sanjay Rai
(see all)