If you're considering rhinoplasty, you might be wondering what to do after the procedure to aid a safe and speedy recovery.
There are a lot of things that you should avoid doing after rhinoplasty surgery because they can cause complications or make your nose feel uncomfortable.
We have covered many of these in their own detailed guides which will be referenced throughout the article.
Here's a list of 10 important things you shouldn't do after a nose job:
Don't blow or pick your nose
It's best not to blow your nose for at least a week or two after rhinoplasty surgery.
Of course, it's easier said than done if you catch a viral infection. Therefore, you must do everything you can to avoid getting infected. This includes washing your hand frequently and carrying a sanitizer spray or gel with you.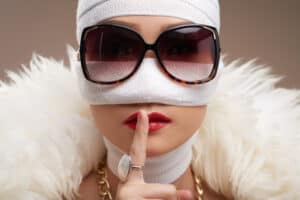 If you are allergic, stay indoors as much as you can. Try scheduling your nose job to a time of the year when there are fewer allergens in the air.
Only use saline spray or standard saline drops if you have an infection such as a cold or flu to help clear the nasal passages.
It's best not to touch the area in case you have an infection and it can lead to post-operative bleeding, as well as pain from pulling at the skin that was cut during surgery.
Don't drink through straws
Drinking through a straw can cause people to gag and vomit, which is really unpleasant after rhinoplasty surgery. Therefore, it's best to avoid straws.
Additionally, drinking through a straw after rhinoplasty may cause irritation in the nasal area so it is better not to do this for two weeks.
Don't sneeze or cough forcefully
Sneezing and coughing forcefully after rhinoplasty can cause a buildup of pressure in the nose, which could lead to bleeding.
It's best not to sneeze or cough for 14 days following surgery. This is yet another reason to be extra careful with allergies and viral infections.
Avoid wearing tight clothes around the neck and face area for at least 2 weeks post-surgery
You should wait at least two weeks to wear anything that is too tight due to the possibility of postoperative complications, such as swelling or bruising.
Rather than wearing tight clothes that you need to pull over your head, it's best to go for looser or button-up clothing that doesn't put pressure on any part of your face or neck area.
Vigorous exercising
You should avoid all exercising during the first week after surgery.
Light walking can be introduced to your schedule after the first week without any complications.
It's best not to work out with weights above your head for at least a month after rhinoplasty.
This is because weightlifting can lead to pain in the nasal area, nosebleeds, and headaches that last for days.
When you do start lifting weights again, it's best to exercise within your comfort zone and to avoid any exercises that involve your head/face.
Read our full guide to exercising after rhinoplasty.
Wearing glasses the normal way
After a nose job, the bridge of your nose will likely be covered with a splint.
Depending on the exact nasal area involved in the operation, your surgeon may tell you that you can wear your glasses over the splint.
Once it is removed, or when your surgeon advises against wearing them over the nasal splint, you can choose a special frame or tape your glasses to your forehead while at home.
Read more details about wearing glasses after rhinoplasty here.
Sunbathing
It's best not to sunbathe for three weeks after rhinoplasty.
The nose is a sensitive area and the sunlight can cause skin damage or irritation in this region. It also might cause discoloration of the skin where incisions were made during the nose reshaping procedure.
This means that you should avoid tanning salons as well as laying out on beach towels at the pool.
Wearing a hat is a good idea if you must go out during these first 3 weeks.
Wearing makeup
Do not wear makeup for at least two weeks.
The skin and tissue are still healing after rhinoplasty, so it's best to wait before putting on any cosmetics that might irritate the region or cause you pain while in recovery.
It's also a good idea to avoid wearing lipstick because of its potential connection with cold sores.
The first few weeks after the surgery should be a good time to opt for a natural look as it may be easy to apply too much makeup trying to conceal the signs of your surgery.
It may take up to four weeks before you can begin wearing more than tinted lip balm and mascara.
Don't smoke
It's best to avoid smoking during the healing process.
Smoking will irritate your nasal area and can lead to bleeding, as well as heal with more complications than if you didn't smoke at all.
In addition, nicotine is a vasoconstrictor that has an effect on blood vessels in general which could cause problems after surgery.
As with all surgeries, smoking can lead to a higher rate of complications and lengthens the recovery time.
Avoid swimming
It's best not to swim in chlorinated water for the first two weeks after rhinoplasty. This is because chlorine can cause postoperative swelling or inflammation that might affect your nose, making it difficult to breathe normally.
This means you should avoid both the pool and hot tubs as well as showering with your face wet.
Eating junk food
It's best not to eat any fried, greasy, or spicy foods for at least two weeks after rhinoplasty.
This is because these types of food can lead to swelling and inflammation in your nose which makes it difficult to breathe normally.
The first few weeks following surgery are the best time to adopt healthier eating habits that will have a positive impact on your recovery.
See our full guide to eating after rhinoplasty here.
Drinking alcohol
It's recommended not to drink alcohol for at least a week after rhinoplasty.
Drinking will dry out your nose, which can lead to more pain and discomfort during the recovery.
Alcohol consumption also slows down healing because it increases blood flow in that region of the body, so you should avoid drinking any type of alcoholic beverage for a week after nose surgery.
More on what you can and can't drink after nose surgery in this article.
Watching comedy
This one might sound odd but a burst of good laughter might stretch your nasal area and delay your recovery.
It's best not to watch anything too emotionally charged, or that might make you laugh a lot – or cry – for the first two weeks after rhinoplasty.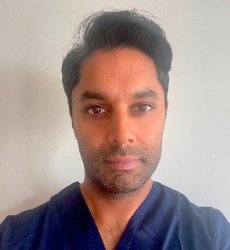 Latest posts by Sanjay Rai
(see all)