Rhinoplasty can correct a crooked nose by changing the size of the nasal septum and nasal bones, removing any extra cartilage from inside the nose, and reconstructing different parts of the bone structure to improve its shape.
You may also be able to reduce your hump at the end of your nose during this procedure if you have one.
If you have been dreaming about having your crooked nose fixed, this is the article for you!
What Causes a Crooked or Twisted Nose?
Crooked noses can be a result of genetics, injury, or other conditions that may lead to an abnormal nose shape.
There may be subtle asymmetries in the bones and cartilage that cause the deviation. When only one side of the nose is affected, it appears that the nose is deviated or crooked in appearance.
Symptoms of crooked noses may include breathing problems, difficulty sleeping due to nasal congestion, and an inability to smell correctly.
How Do You Fix a Crooked Nose?
There may be a deviation of the nasal bones caused by trauma or a fracture of the nasal bones. It may occur alone or in conjunction with a septal deviation (septal cartilage).
Either way, a rhinoplasty surgery (or nose job) is the best solution to fix this.
A rhinoplasty procedure can be performed in two different ways: open surgery or closed (closed-approach) surgery.
When you undergo an open-approach procedure, the surgeon will make incisions around your nose, lift up the skin, and cut away any excess cartilage or bone.
During the procedure, the bones will be straightened to correct a deviated or crooked nose bridge. 
In order to correct visible asymmetry, the graft is used to reinforce and straighten the septum. Grafts required to replace cartilage may come from the septum or in some cases from the ear.
This approach can be used on patients who have breathing problems caused by their crooked noses.
Closed nose surgery may be enough for those patients where the deviation is smaller and the bony structure does not need too much correction.
The Benefits of Straightening a Twisted Nose
Apart from the improved visual appearance, there may be several medical benefits of a corrected nose.
You may experience improved nasal breathing, decreased congestion, and fewer allergies.
Your sense of smell should also improve since you will be able to breathe through your nose more deeply.
And fixing a crooked or twisted nose can have an effect on your confidence as well: it's been shown that people with successful nose jobs are more comfortable in social events.
Crooked Nose Surgery Cost
At Berkeley Square Medical, we charge a convenient all-inclusive price of £6450.00 for our rhinoplasty procedures. (Price as of July 2021)
This price includes all pre-surgery assessmentsand first consultation, all medications, garments, and tools used during the surgery, and the complete follow-up regimen.
Revision Rhinoplasty for a Crooked Nose
There may be rare cases where after rhinoplasty, the nose becomes crooked again.
In these instances, revision surgery may be performed to correct any issues. This surgery is typically less invasive than primary rhinoplasty and has a quicker recovery time of six weeks or less.
Our London clinic often has patients coming to us after having unsatisfactory results from previous nose surgeries in other countries. As a result, our consultant rhinoplasty surgeon is one of the most experienced specialists in the world when it comes to secondary surgery.
Crooked Nose Before and After Photos
One of the best ways to judge the experience of the nose surgeon is to ask for photos of their previous work. You can see before and after photos of our previous rhinoplasty patients on our dedicated page.
Aftercare and Recovery After a Nose Job
The aftercare recommendations for crooked nose surgery are generally the same as for any other type of rhinoplasty.
You will need to take it easy for a few days after surgery, but many patients are able to resume normal activities in less than two weeks.
The stitches should be dissolved and the splint removed at the one-week mark, and you may have to wear a dressing for up to 1-week.
You may experience some bruising and swelling, but your nose should be back to normal after about a month.
You will need to wait about six months from your surgery date before getting any kind of facial cosmetic procedure done (including Botox or fillers).
FAQ
Do you need to break the nose to fix a deviated septum?
Deviated nose surgery often involves taking down a nasal hump at the same time. It is also common for patients to desire a narrower nose. 
As a result of the dorsal hump being removed, the nose may become broadened. This is known as an open roof deformity. 
If this happens, the corrective action often involves tiny fractures made on the nasal bones so they can be restructured in a way that closes this gap. The nose will also become narrower as a result.
Can you correct a deviated septum during rhinoplasty surgery?
Even though rhinoplasty is primarily a cosmetic surgery, it is possible to correct a twisted or deviated septum at the same time (this is called septorhinoplasty).
Don't hesitate to contact us if you have a deviated septum and would also like to correct some other aesthetic issues, we have one of the most experienced surgeons and rhinoplasty team in these more complicated procedures.
Why does my nose still look crooked after rhinoplasty?
An infrequent complication of rhinoplasty is a crooked nose that may occur if the nasal bones are compressed to one side or the other during the healing process. 
It is possible that the nasal bones will shift or become deviated if force is applied to them during this time.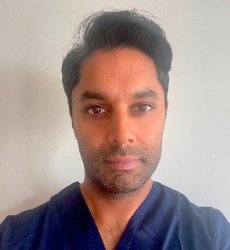 Latest posts by Sanjay Rai
(see all)