Results of Breast Reduction surgery 
We recently had a patient from our London clinic have Breast Reduction surgery to reduce her breasts from a DD to C cup size. We show our findings and results achieved.
The reason the patient was considering a breast reduction. Large heavy breasts was causing severe discomfort and difficulty in clothing, as well as she frequently complaining about back pain.
We felt following surgery, she would be happier as her breast volume will fit the rest of her body.
The transition from a DD to a C is very significant and we felt that a D size breast might be more realistic.
Over the years, plastic surgeons have worked out some general guidelines on what an ideal breast should be shaped like. Having the nipple at or slightly above the level of the infra-mammary fold (the IMF) is ideal, as is having the nipple on the most projecting part of the breast mound. Other issues such as symmetry and size of the breasts are equally important to the surgeons and patient's goals.
What is involved in Breast Reduction surgery
Breast reduction surgery aims to give you a breast which is not only smaller in size but also more perkier in shape and projection. This usually involves minor scars around the nipple (which are very hard to see) and a vertical scar below the nipple on the front of the breast (which fades remarkably well). Finally, in rare circumstances, your surgeon may make a further incision in the crease underneath the breast which is the best hidden scar in all breast surgeries.
What her breast looked like after surgery depends a little upon what it looks like beforehand and a lot by what operation is done and who does the operation.
We found that adding a lift in this case with a vertical technique, rather than with an anchor scar, the shape was vastly improved.
The results of the surgery was the breast (added with this technique) became more fuller  and more projecting without a bra.
The reduction of the size of the breast, resulted in a greater weight reduction too, relieving the pressure placed on here. A great result all round.
London Cosmetic Surgery group Berkeley Square Medical, is one of the UK's leading providers of Cosmetic Breast Surgery.  For more information about Berkeley Square Medical, please visit: https://www.berkeleysquaremedical.com/breast-reduction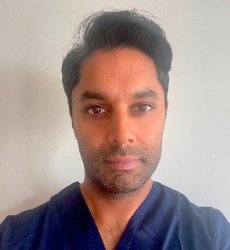 Latest posts by Sanjay Rai
(see all)