Though you may have known since your teenage years that you would one day have your Breast Lift procedure, the surgery itself takes approximately 90 minutes to complete with instant and lifetime results.
Breast Lift Surgery is one of the most popular cosmetic breast surgeries for women with a very wide age range wanting an increased lift in breast profile. It can be for many reasons, but some of the more popular decisions to have the procedure are:
To increase your confidence and self-esteem
Wanting breasts that are higher, firmer and fuller
To correct nipples and/or areola's that point downwards
Your breasts are quite asymmetrical, elongated in shape or pendulous
To give you a more confident feel in your clothes
To improve your body image
To restore lost size that occurs from weight loss or breastfeeding
Leading Breast Specialists in London carrying over 27 years expertise and over 4250 successful Breast Lift surgeries to date.
To view Before and After Pictures of previous patients, click on the large photo at the top of the page. We carry a portfolio of hundreds of patients for Breast Lift Surgery photos that our surgeon will take you through at your consultation. At your appointment, we will show you a more comprehensive database of previous patients to help you understand more about the look you wish to achieve. This includes patients who have had breast lifts together with implants or reductions.
BREAST LIFT COST 
BREAST LIFT WITH IMPLANTS COST
This is an All-Inclusive set price for this surgery and includes the full cost of your procedure including your £100.00 consultation which is credited against the cost of your surgery.
The cost of your surgery includes:
Your Consultation directly with your Consultant Plastic Surgeon (including a second refresher consultation on your procedure date)
Your full Pre-Operative Assessment in preparation for your surgery.**
Your full procedure at our Award-Winning Hospital in Harley Street, London
All medications and garments required for your aftercare
Complimentary chauffeur to take you from the hospital directly to your home in London.
24 -Hour Online Messaging Service with members of our clinical and nursing teams
24-Hour telephone line to our Clinical team
All Post-Operative appointments with our nursing team
Your full Surgeon Post-Operative Review
FINANCE PACKAGES / COSMETIC LOANS
We do not provide Cosmetic Financing for this Surgery. When considering this surgery, we like to ensure the cost of your treatment is both transparent and clear to understand. The cost outlined above is fully inclusive of your completed procedure with no hidden costs.
**(This may exclude a COVID-19 Coronavirus Detection Test if App).
In virtually all Breast Lift procedures carried out, only excess skin is removed to lift the breasts to a more perkier profile to achieve the ideal results. However, depending on your goals, there is often the need to discuss this procedure together with a Breast reduction or even the inclusion of a Breast Implant. These choices are always dependent on the goals you wish to achieve and all options are discussed at your consultation with our Breast Lift Surgeon if they are applicable to you.
During your initial consultation with our Surgeon, we will discuss your desired breast profile height and fullness and will advise you on all matters related to the appearance of your breasts that you feel are important to know.
Our surgeon will examine your breasts and make a key assessment of the following points:
What is making you unhappy about your current breast appearance – shape, size, cleavage, asymmetry
Assessing the elasticity and thickness of your skin to determine what is required in skin removal and lift to reposition both a higher breast line and reposition/reshape of your areolas and nipples.
To discuss any factors that may change the breast shape after surgery, such as pregnancy and significant weightless.
Taking you through before and after photos of previous patients applicable to you, to give you the best possible vision of your results by having the procedure done.
Remember that your consultation is the perfect starting point to discuss with our surgeons everything about having this procedure.
Please read the FAQ's menu to find answers to a list of frequently asked questions by patients before and after their procedures were carried out.
Your surgery time is usually between 60-90 minutes.
Breast Lift Surgery is carried out under General Anaesthetic, which means you will be fast asleep for the full length of the procedure.
There are 4 common incision patterns that are used in a breast lift procedure. Each technique is discussed at your consultation before deciding on the best incision point for you and your goals. The choice of the incision is dependent on your current appearance of breasts and the amount of skin to be removed to lift the breast to the correct height.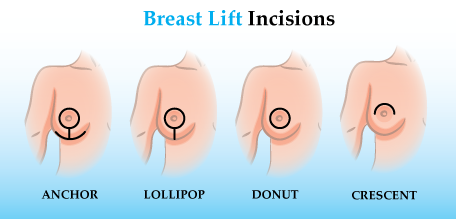 Once the incision is made, the breast skin is lifted and reshaped to improve both firmness and contour of the breast.
The Areola and nipple are repositioned thereafter to a more natural height in harmony with the new breast height. Areolas that were previously large are reduced to a small size in proportion to the new breast height and size.
Your surgeon will then close the incision made to each breast and assess the results. Upon being completely happy with the final result as was discussed during your consultation, your surgeon completes the surgery.
BEFORE YOU LEAVE OUR HOSPITAL
Our priority is that your recovery is straightforward and quick. You will be provided aftercare instructions by our surgeon once he has assessed you and is ready to discharge you personally from the hospital. This will include any pain medications and a support bra that will be fitted to ensure your new breasts are supported in their new height position.
Many surgeons advise no showering for one week which is a very difficult task for anyone. We advise that it's ok to have regular hand showers with lukewarm water and ensure no water is submerged in the incisions. We will advise you of this before you leave the hospital.
We want to ensure that you can get home safely. For this reason, all Breast lift patients are chauffeur-driven home complimentary as a part of our aftercare to you (Within the London M25 Area).
THE FIRST 24 HOURS AFTER SURGERY
You will feel slightly drowsy from the anaesthesia until it wears off. At this point, any swelling to the breasts will be at its highest and your upper body movement will be quite limited while the swelling slowly decreases.
THE FIRST 3 DAYS AFTER SURGERY
You will still feel slightly tired after few days and this is generally due to the temporary change to sleeping completely on your back without rolling. You may have a slight feeling of tightness around your breasts. Adjusting to the new breast weight/size may change your breathing pattern slightly while you get accustomed to the new you.
You may notice a reduced nipple sensation during the immediate recovery, but this should return over the coming months. In the first 7 days, your support bra must be kept on at all times to help your new breasts stay in place whilst healing. Thereafter a sports bras can be used before returning to normal bras.
Pain and Discomfort are generally very low and can be managed with over the counter medication. In rare cases, you may feel small spasms in the breast due to nerves healing.
5 DAYS AFTER SURGERY 
You should be able to return to non-physical work after 5  days from the procedure but must avoid any strenuous activities. Your breast may still be quite swollen, though this will not cause you any major discomfort in your daily movement by this time.
7 DAYS AFTER SURGERY 
You will return to the hospital for your post-operative review, in which any stitches are removed. Though the surgeon uses dissolvable stitches, we will check to make sure your incisions have healed. You will also be assessed with any leftover swelling and any advice to help improve your recovery time.
14 DAYS AFTER SURGERY 
You can start to resume light gym and cardio in moderation. You should not lift any heavy objects or go swimming /spa until 6 weeks after your surgery.
Your results are instantly visible after surgery, but you must allow between 4-6 months before the breasts have fully settled at the desired height. During this time your breasts will be adjusting into place as the swelling reduces.
1-3 MONTHS AFTER SURGERY 
During this period and numbness in the nipples and skin will start to disappear and you may feel a slight burning or tingling sensation as the nerves in the breast tissue begin to return to normal function.
1 YEAR AFTER SURGERY 
As apart of your aftercare, we advise all patients to book in once a year to see their surgeon for a brief assessment of the consistent results.
Should I have a Breast Lift if I'm planning to have children?
We highly recommend that you undergo a breast lift once you have decided not to have further children, The reason is simply that another pregnancy will most likely affect the results from the surgery and will most often require a second surgery to re-achieve your results.
Can I breastfeed after having a Breast Lift?
Breastfeeding is an absolute possibility and in most cases, there is no damage to the ducts and nerves. There is always the possibility of reduced milk production so this is something you should discuss at your consultation.
How long will I be in pain after Breast Lift surgery?
Most patients feel absolutely no pain but slight discomfort in movement. However, any discomfort should subside constantly for 24 hours after surgery. For the first 2 weeks, you will be advised by our surgeons to sleep lying on your back.
What care will I be provided after Breast lift surgery?
After Breast Lift Surgery you will either be discharged at the end of the day or remain overnight in your own ensuite within the hospital and discharged the following morning. You will be required to wear a post-surgical support bra on departure
All patients will be given a dedicated line to contact the clinic if there are any questions or advice for care needed. As apart of the aftercare you will have a follow up appointment with our surgeon after 7 days post surgery. Please look at our pre care and aftercare commitments to all our patients.
After your surgery, your life time aftercare and recovery begin with us. This is one of the most important times during your journey through your surgery as a good recovery will ensure that you body heals rapidly and preserves the results achieved by our surgeon. A good recovery is achieved by following the guidance and notes given by us straight after your procedure.
When will my scars heal ?
Your scars will be red for up to 3-4 months. These were invasive incisions, and they need time to heal like any other minor cut. Be patient, as the redness will go away over time, but it will take  a few months. You can lessen the look of them using products that are rich in vitamin E or over the counter silicone gels .
When can I go back to work?
You should be able to go back to work once your pain is at a level that can be managed with just over-the-counter pain medication. Most women like to allow for at least one full week off work and can return soon after that. Be aware that there will be restrictions on raising your arms above shoulder level and lifting anything for some time after surgery.
How long until I can have sex after breast lift surgery?
Sex is possible soon after surgery, but you will want to be careful to wait until you are healed enough. You will be having follow-up appointments with your surgeon, so, don't be shy – ask! Only your surgeon will know when you have healed enough to resume normal activity.
To arrange your Breast Lift consultation, click the enquiry box at the top of the page or contact us on: