Alar Base Rhinoplasty
Alar Base Rhinoplasty is more commonly known as nostril reduction surgery, which reduces the rate of nostril flaring, the nostril base, or decreases the width of the nostrils. It is also known as Weir's excisions for alarplasty. This particular procedure is more commonly undertaken as ethnic rhinoplasty.
Alar base rhinoplasty is common with African-Americans, Hispanics and Asians, but it is also patronised by Caucasians and Arabs who need to correct nostrils from over flaring.
To carry out Alar Base Rhinoplasty, a surgeon will make a small incision to the crease where the cheek joins with the nostril wall to about 3 to 4 mm in dimension. A piece of the nostril wall in the shape of a wedge is removed symmetrically on both sides, and the nostrils are brought inwards to sit in better harmony with the rest of the nose, especially the nasal tip, to complete the reduction.
Some are of the view that reducing the nostrils can be done as a stand-alone procedure without a complete rhinoplasty needing to be performed. However with experience, consideration must be given to proportionality, the nose must be in sync with all other facial features, and it is the reason complete rhinoplasty is advised. Nostril reduction may require further adjustments to both nasal height and tip projection to achieve the best proportion.
One objective that Alar Base Rhinoplasty sets out to achieve is to ensure that a bulbous tip blends well with the nostrils. Emphasis is given to ensure that the nostrils don't appear pinched or too wide. As the concern of many is too much nostril flaring, the process sets out to ensure that glaring nostrils are reduced.
This is also considered the best procedure to ensure that any asymmetry in the nostrils is corrected.
After Alar base rhinoplasty is completed, the dissolvable sutures normally will disappear within a week, and the healing process improves on a daily basis. Although, as a result of individual differences, healing will be faster in some patients than in others, prolonged scarring is hardly ever the result. Normally after 8 days, the stitches are completely dissolved, and light make-up can be applied to shield the redness, without any fear of side effects.
Visible Scarring:
It is worth noting that alar base reduction rhinoplasty is prominently carried out in patients with a darker complexion. Patients must consider that distance from the original edge of the nostrils and the corrected new position leaves minor scars. Though these scars heal and become invisible in the natural crease of the nostril, patients with darker complexion will usually find their darker scars more noticeable during their recovery.
For more information about your rhinoplasty procedure, visit our rhinoplasty page to learn more and also to arrange your consultation with our Rhinoplasty Specialist.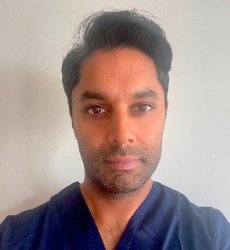 Latest posts by Sanjay Rai
(see all)