A tummy tuck, or abdominoplasty, is a transformative cosmetic surgery that has grown in popularity for its ability to flatten and reshape the abdominal area. Recovery from a tummy tuck can vary greatly among patients depending on the type of procedure they undergo, whether it involves a minor adjustment or a full muscle tightening, which generally causes the most discomfort.
This multifaceted procedure is not only a physical transformation but also a journey that involves emotional and psychological preparedness. As we explore the entire process, from pre-surgery preparations to long-term recovery, our goal is to equip you with all the advice you need for a swift and successful recovery.
Whether you are considering this procedure or are already on your way to a flatter tummy, understanding the recovery process is vital to achieving the desired results while maintaining your health and well-being.
The Procedure
Types of Tummy Tucks
Mini Tummy Tuck: This less invasive procedure focuses on the area below the belly button, removing excess skin and possibly tightening the lower abdominal muscles. It's suitable for individuals with localised concerns and often entails a shorter recovery time.
Full Tummy Tuck Muscle Tightening: A more extensive procedure, the full tummy tuck addresses both the upper and lower abdomen. It includes the removal of excess skin, tightening of the entire abdominal wall, and often repositioning the belly button. This comprehensive approach can create more dramatic results but typically involves a longer recovery period.
Tightening of the Abdominal Wall
The tightening of the abdominal wall, a key component in many tummy tuck procedures, often leads to the most post-surgical discomfort. This aspect involves suturing stretched or separated muscles to create a firmer abdominal profile. It may lead to sensations of tightness and soreness in the early stages of recovery, akin to the feelings after an intense workout.
Average Recovery Time for Different Procedures
Recovery timelines vary depending on the specific tummy tuck procedure. For a mini tummy tuck, patients might expect a shorter recovery of around one week off from work, while a full tummy tuck with muscle tightening may require an average of two weeks. It's essential to note that these are general guidelines; individual experiences can vary, with some patients needing less time off and others requiring more.
Preparing for Recovery Before the Surgery
Preparation for tummy tuck recovery starts well before the surgery itself. It's not just about physical readiness; it's about emotional and logistical considerations as well.
The initial consultations serve to set expectations, helping you understand the recovery time, potential discomfort, and achievable outcomes. This alignment of goals can go a long way in reducing anxiety and ensuring you're on the right path.
Your physical health is another important aspect. Ensuring optimal well-being prior to surgery, through proper nutrition, exercise, and addressing underlying health concerns, contributes to smoother recovery. Smoking habits and medications must also be discussed with your surgeon, allowing for proper adjustments to minimise risks.
Getting your home ready for the post-surgery period is an often-overlooked aspect of preparation. Stocking up on essentials, setting up a comfortable recovery space, and arranging for help can ease the transition back home. Recovery aids such as ice packs, comfortable clothing, and entertainment items can make the recovery experience more pleasant.
Having friends or family who understand the procedure and are ready to provide emotional support can be great help. Mental readiness is also vital, acknowledging that emotional swings might occur postoperatively and finding strategies to cope with them.
This extensive preparation process ensures that you are fully ready for the recovery phase, paving the way for a more manageable and successful recovery. The time and effort invested will enhance your comfort, peace of mind, and overall results, setting the stage for a transformative experience.
Immediate Post-Surgery Recovery: What to Expect
The immediate post-surgery recovery period is a critical phase for anyone undergoing a tummy tuck. During this time, the body starts the healing process, and understanding what to expect can provide confidence and facilitate smoother recovery.
Pain and Discomfort Management
Immediately after a tummy tuck, it is common to feel tight, swollen, and unable to stand fully upright. This is a normal part of the process, and your tummy may hurt. However, this pain is usually manageable with prescribed pain pills. The sensation might be similar to a C-Section or Hysterectomy recovery.
Physical Limitations
The first week after surgery includes several physical limitations, such as lifting no more than 15 pounds, walking slowly, and bending over. These precautions are essential for proper healing and avoiding strain on the surgical site. The second week usually sees an increase in the weight limitation to 30 pounds and a gradual return to more normal walking.
Support and Assistance
Having support during this period is crucial. Assistance with daily activities, especially if you have small children, is often needed. Friends and family members who are aware of your needs and are available to help can make a significant difference in your comfort and well-being.
Emotional Reactions
The physical changes that occur after a tummy tuck might lead to emotional reactions. It's not uncommon to experience mood swings ranging from depression to elation. Being aware of these potential emotional fluctuations and having strategies or a support system to deal with them can aid in maintaining mental well-being during recovery.
Return to Work and Activities
After the second week, many patients return to sedentary work, but active jobs and heavy lifting should be avoided for another two weeks. Vigorous physical activity and contact sports are typically limited for 4-6 weeks. The recovery time will vary from individual to individual, you need to listen to your body and follow your surgeon's advice.
Long-Term Recovery: Achieving Optimal Result
Scar Management
Tummy tucks inevitably lead to scars, which, though well-placed and hidden in most clothing and bathing suits, can be a concern for some patients. Following your surgeon's specific instructions regarding scar care and using recommended products can minimise their appearance over time.
Ongoing Physical Care
Continued attention to physical well-being is needed. Gradual reintroduction to exercise, proper nutrition, and maintaining a stable weight will contribute to the lasting success of the procedure. Any significant weight fluctuations can affect the appearance and integrity of the tummy tuck results.
Regular Follow-Ups with Your Surgeon
Keeping in close communication with your surgeon and attending regular follow-up appointments ensures that your recovery is progressing as it should. Any concerns or questions can be promptly addressed, providing peace of mind and timely interventions if needed.
Patient Responsibility
The ultimate success of the procedure is not only determined by the surgeon's skill but also by the patient's commitment to the recovery journey. Taking personal responsibility for your recovery plays a significant role in long-term success. This includes following all medical advice, being patient with the healing process, distracting the mind when needed, not rushing back to regular activities too soon, and keeping the end result in mind.
Debunking Common Myths
Instant Flat Stomach
Myth: Many believe that a tummy tuck will result in an instantly flat stomach immediately after surgery.
Reality: A tummy tuck is a significant surgical procedure, and the body requires time to heal and adjust. Swelling, tightness, and other post-surgery effects may temporarily mask the final result. The true appearance of a flatter stomach emerges gradually as the body heals.
No Scars
Myth: Some expect that a tummy tuck will leave no visible scars.
Reality: While surgeons make every effort to place scars in inconspicuous locations, scars are an inevitable part of the process. Proper care and following your surgeon's recommendations can minimise their appearance, but they won't be entirely invisible.
Replacement for Weight Loss
Myth: Some individuals perceive the tummy tuck as a weight-loss method or alternative to a healthy diet and exercise.
Reality: A tummy tuck is designed to remove excess skin and tighten muscles, but it's not a substitute for weight loss. Patients should be close to their ideal weight before the procedure, and maintaining a healthy lifestyle is essential for sustaining the results.
Easy Recovery
Myth: The belief that recovery from a tummy tuck is quick and effortless.
Reality: Recovery is a process that requires time, patience, and adherence to specific guidelines. It varies among individuals and can be more challenging than some anticipate. Proper preparation, following professional advice, and allowing adequate healing time are essential.
One-Size-Fits-All Procedure
Myth: The misconception that all tummy tucks are the same, regardless of individual needs and body types.
Reality: There are various types of tummy tucks, including mini tummy tucks and full tummy tucks with muscle tightening. Each procedure is customised to the patient's unique needs, and the recovery process will vary accordingly.
Final Thoughts
Tummy tuck recovery is a journey that requires informed expectations, a strong support system, and a preparedness to invest time and effort in both physical and emotional healing. It's a wonderful operation that can lead to transformative results, but the willingness to trade the appearance for the scar and to follow through on the prescribed recovery guidelines is important.
By entrusting your care to experienced professionals like those at Berkeley Square Medical and actively participating in your recovery, you're taking positive steps towards a new and improved you.
For more information about this procedure at Berkeley Square Medical, please visit: https://www.berkeleysquaremedical.com/tummy-tuck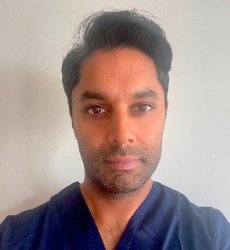 Latest posts by Sanjay Rai
(see all)