The shape and size of your nose can affect the first impression you make. The largest part of the nose is called the nasal dorsum, which runs from between your eyes to just before where it meets at a point with another bone in front on top.
What Is a Dorsal Hump?
A dorsal hump consists of mostly bone and cartilage draped with skin. The disorder refers to the presence of an unwanted bump/arch on the bridge of the nose, commonly known as the dorsum.
In certain cases, this nasal hump is not really noticeable looking at the frontal view. Most patients can clearly view it from a partial side or full side profile. The dorsal hump begins at the top of their nose close to the eyes and ends just before the tip of the nose.
Dorsal Hump Aesthetic Analysis
Patients who are considering a Rhinoplasty in order to correct a dorsal hump typically request a general reductional change, which can result in a smoother and straighter bridge as viewed on a side profile view.
When discussing this option, there are still certain degrees and angles when straightening the dorsal hump. One of the most popular changes that are requested is having a straight bridge. This may either be done with or without a supra-tip break, otherwise called tip bone break.
The result is a more feminine result to the nasal bridge with a better relationship between the bridge of the nose and the angle of the forehead.
The most important factor to consider before a dorsal hump removal procedure will be to specifically foresee what the nasal tip will look like in terms of its new appearance. In some cases, the reduction of the hump can often give the appearance of a more projected nasal tip.
It is for this reason, a Rhinoplasty specialist surgeon will be discussing this at the consultation to ensure the removal of the nasal hump does not affect the relationship between the nasal tip and the upper lip.
The nose has a delicate bone and cartilage structure so make sure to consult an experienced facial plastic surgeon if you are considering rhinoplasty surgery.
Dorsal Hump Removal Techniques
Dorsal humps can be removed by a few different rhinoplasty procedures. It's important to consult an experienced surgeon who can advise on the best option for your nasal structure and avoid the need for a revision rhinoplasty later.
Closed Rhinoplasty Surgery
Surgery for dorsal hump reduction is often described as reductive because it often results in a size reduction of the nose. It involves a specific shaving of nasal bones and/or cartilage in order to obtain the appearance desired.
Contrary to what many people may believe, this is one of the more difficult kinds of rhinoplasty to perform. This is because the changes, which involve the parts of the nose where the nasal hump exists, may alter the overall appearance of the nose and your facial features.
At Berkeley Square Medical, a dorsal hump surgery is carried out with closed rhinoplasty techniques. This means the nose remains closed and operated on without opening up the nose. The benefits to this is a more instant result with a significantly faster recovery time.
A closed technique is preferred if the hump is primarily bony and lies in the upper third of your nasal structure. A closed nose job procedure allows the plastic surgeon the option to access the dorsal hump through a pair of small incisions inside of your nose. The shape of the nostrils is usually left unchanged.
This plastic surgery involves less swelling and damage to the skin and a faster recovery as a result.
Open Rhinoplasty Procedure
With an open rhinoplasty procedure, plastic surgeons have more control to add shape or definition. This approach is used for dorsal humps combined with under-rotated, asymmetric (uneven) tips or cartilage grafts.
This plastic surgery is performed under general anesthesia, with the surgeon making a small incision that grants them visibility of the nasal bones and cartilage below your skin.
For this procedure, a combination of folding the upper lateral cartilages with spreader grafts will usually be needed to allow access to the nasal passages. A spreader graft is often placed in the middle third of the nasal bridge to provide stabilization during dorsal hump surgery.
Open rhinoplasty surgery requires having a splint or cast on your nose for up to one week, and total post-op care takes an average of three weeks.
Nonsurgical Rhinoplasty Options
Many patients would prefer a non-surgical correction of dorsal humps. Unfortunately, since the septum is largely made of cartilage and bones, nose surgery is usually needed to produce the results most patients are looking for.
If your dorsal hump is less pronounced, ask your rhinoplasty surgeon if dermal fillers or other noninvasive methods can be used instead of hump removal.
Dorsal Hump Removal Summary
If your nose has an arch or a dorsal hump that you wish to correct, then you may want to consider a reduction rhinoplasty. Our leading Rhinoplasty Specialist will ensure a dorsal hump reduction is performed in harmony with other finesse changes to the nose to achieve the best results for the patient.
For more information, email us at info@berkeleysquaremedical.com to arrange your consultation.
FAQ
Why do I still have a dorsal hump after rhinoplasty?
If your nose was bleeding more than usual during and after surgery, this can cause more swelling and scarring, which may take longer to heal and could even compromise your results. This can look like your hump is still there until it heals properly.
Can a dorsal hump come back after rhinoplasty?
Dorsal humps do not grow back after rhinoplasty, but the final result will only be visible after the swelling has gone down. Even if the result is not perfect and you need a minor secondary rhinoplasty it can only be assessed by your plastic surgeon after full healing.
How much is a dorsal hump rhinoplasty?
Our all-inclusive price of primary nose jobs is £7950.00. This includes the full cost of your procedure including your £100.00 consultation which is credited against the cost of your rhinoplasty surgery.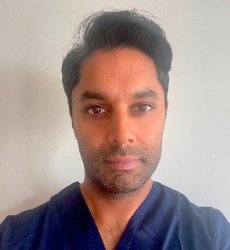 Latest posts by Sanjay Rai
(see all)