Rhinoplasty is a surgery that is often done to improve the appearance of the nose.
While most people have a successful surgery with no problems, some people may notice dark circles under their eyes after rhinoplasty.
In this blog post, we will discuss the causes of dark circles after nose surgery, as well as the timeline for recovery.
We will also provide tips on how to reduce the appearance of these circles.
Why do I have dark circles under my eyes after nose surgery?
One of the most common side effects of rhinoplasty is the appearance of dark circles under the eyes.
This can be caused by the alteration of the nasal bones, which can also break some capillaries under the skin during the procedure.
This often leads to bleeding under the facial skin and is the primary cause of the appearance of dark circles.
While this may be a normal reaction to the surgery, it can be quite alarming for patients who are not expecting it.
How long before the dark circles disappear?
The good news is that, in most cases, the bruising will lighten within the first few days and will be completely gone within 10 days.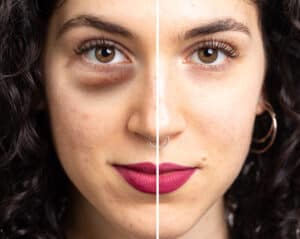 Some patients have trouble healing completely from bruising after a rhinoplasty. Dark areas can continue to persist for months after surgery.
This can happen to people of certain backgrounds – usually Mediterranean – due to a genetic predisposition.
The bruises may not be broken down and absorbed by the body, leaving iron or hemoglobin deposits behind resulting in changing the skin's color.
Even if this happens to you, fear not! The result is not permanent discoloration, correcting this condition is possible through similar treatments to those for sun spots.
Typically, they involve applying topical hydroquinone for several weeks before undergoing a chemical peel.
Laser treatments might be another solution to get rid of stubborn circles.
The timeframe for healing in these rare cases can take anywhere from 4 to 6 months.
How do I speed up the healing process?
Your rhinoplasty surgeon will give you detailed instructions to follow during the recovery period.
There are a few things that you can do to help reduce the appearance of dark circles.
First, make sure that you are staying hydrated and getting plenty of rest. Keep your head elevated at night.
You can also apply cold compresses to the area, which will help to reduce swelling and inflammation. A bag of frozen peas tends to work well for this.
Some natural treatments such as Bromelain and Arnica tablets or cream also work well for many patients.
Keep an eye on the colour of the circles. Once the initial darker shades fade into a yellowish colour you know you are on the right track.
At this stage, applying a light corrector will usually do a great job of concealing the bruises, allowing you to get back to your social circles.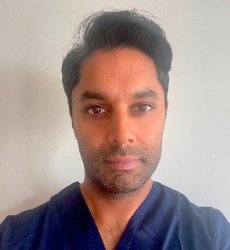 Latest posts by Sanjay Rai
(see all)