Getting breast implants is not as expensive or as uncommon as it was several decades ago. Many consumers and patients still consider it something that only the rich or famous do, like aspiring models or actresses. However, breast implants are increasingly affordable, and in many cases, the cause for getting them done is medical more than sheerly for cosmetic reasons. While deciding to get breast implants is one choice to be made in the first place, a second choice that is necessary is deciding just what the right breast implant size to get is.
Before you or the person getting breast implants can really decide on a specific size implant, it's necessary to consider why breast implants are happening in the first place. While many women simply want to be more endowed and sizable in their bust, some are doing reconstructive surgery following an accident or illness, such as breast cancer. Others are even having preventative work done, having their natural breast tissue removed before something like breast cancer ever happens, and then replacing the breasts with implants. As you can see, there are a wide variety of motivations that lead a person to breast implants these days.
In many cases of reconstructive surgery or preventative mastectomy, the patient in question is seeking to either maintain or restore her original physique. In such instances, the breast implant sizes should be very close if not identical to the size of her original breasts. This presents a minimal change to the overall layer of skin, as it should covering the same amount of physical mass. However, one possible complexity happens in the case of a single breast or mastectomy. If a breast implant matches the size of the remaining breast but not the weight of it, problems might happen with posture over time. However, given the wide variety of implants on the market, it's usually possible to find one that matches both size and weight.
Another possible procedure is a mastopexy or breast lift. This is basically a corrective procedure where the shape of the breasts is more important than the size. In these cases, the natural size of the breasts will often dictate the size of the implants used.
In the instances where a woman wants to increase her bust size, she needs to know just how big she wants to be, particularly in cup size. It's one thing to tell a doctor that she wants to be a 'lot bigger' or a 'little bigger' but the physician or surgeon will need to know what size breast implant to get. Going several sizes larger than currently can mean additional preparatory work to get the body ready for more size. While breast skin tissue can expand to accommodate more size, it can only take so much at one time, and so boosting breast size by many orders might actually require multiple procedures.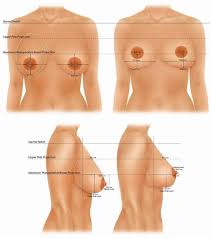 Yet, in other situations, the woman involved might actually want to reduce her breast size. This can be a desire to make her breasts proportionate with a body that has seen a lot of weight loss, or just to reduce back pain and even undue attention and unwanted body language from men. In the cases of back pain, the weight reduction might be a better barometer of what implant to choose, rather than size. Size choices matter more if the desire is to attract less attention.
Another consideration in all of this is that if breasts change size too much, the woman might find a lot of her wardrobe no longer fits well, if at all. New bras are usually a given, which can be expensive enough. If the woman has a monogamous sexual partner, his or her thoughts or concerns might also deserve some consideration, even though the final decisions about her body are her own.