Benefits of Anatomical Implants over Round Implants
Choosing between anatomical implants and round implants can be challenging for many women considering a breast augmentation surgery. Surgeons reveal different point of views concerning this choice, and it largely depends on what you want to achieve with a final look. However, the size of your natural breast can determine the best implants to use as well as your body shape and contour. Anatomical, also known as teardrop implants, has a sloped contour, which imitates the natural shape of breast. Teardrops are less filled out than the round implants and like a teardrop are less filled at the top of the implants and gradually increase in fill towards the bottom of the implant.
Anatomical Implants are sometimes explained as the "Rolls Royce" of implants! The term comes from the quality and the best results for patients wanting the most natural looking increase to their breast size.
Significantly, teardrops can be an ideal choice in a breast enlargement procedure if you have subtle breast sagging. The procedure allows you have a more fuller breast, without going through a lifting procedure (mastopexy). In most cases, women who want to avoid the scars that stem from lifting procedures can have teardrops breast implants to gain fullness on their lower pole of their breasts. The best outcome on the sagging breast is visible in gummy bear breast implants.
The History of Teardrops Breast Implants
Teardrops breast implants attempted to solve some of the significant weaknesses of the round breast implants. Teardrops became popular in the 1990s, and they have asymmetrical shape. They reveal a thinner upper pole and a projected lower pole. Therefore, they have different diameters when measured vertically and horizontally. In addition, teardrops have different projects, and they can be short and broad or, tall and narrow. According to medical experts, anatomical implants can be the best choice if you have little of your own breast tissue.
Statistics show that Allergan Natrelle Anatomical Implants have a 69% lower capsular contracture rate and less the 1% rippling effect than round implants.
Important Facts to Note
The intention of anatomical implants was to mimic the shape of the ideal breast.In this regard, they have a textured surface, in order to allow the body scar to align to the implant. Proper alignment prevents the shifting of the implant. It is important to maintain the textured surface because movement of the implant will give your breast a distorted appearance.
Secondly, when you want to carry out a breast enlargement procedure, it is important to consult widely and learn the facts before you make a decision. the surgeon will give you an honest opinion on the best procedure to use to augment your breasts. Please remember that implants come in various sizes with a choice of over 700 different styles, shapes and sizes. Therefore, you have to try different sizes and consult with your surgeon to determine the best size for your body. Moreover, you have to decide on the location of the implant and the type of incision to use.
Notably, cosmetic breast enlargement procedure involves use of either anatomical breast implants or round breast implants. The choice of procedure depends on an individual preference, the body size and the size of breasts. Moreover, surgeons play a significant role in advising the patients on the pros and cons of each enlargement procedure. Therefore, before you make up your mind, consult your doctor in order to make an informed choice.
When booking in with your surgeon for a breast enlargement surgery, always compare the advantages and disadvantages of round and teardrop shaped implants and see which style best fits your body contour and frame as well as your goals. Thereafter, you can then start to plan both size and projection before finalising the placement of the implant in the breast for your suited results.
To arrange your consultation, email info@berkeleysquaremedical.com or make your enquiry online.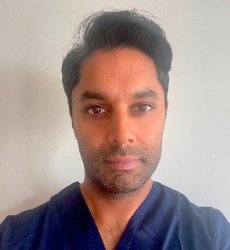 Latest posts by Sanjay Rai
(see all)