Rhinoplasty, or a "nose job," is a popular cosmetic surgery procedure that can help people achieve the facial appearance they desire. But it doesn't come without its risks.
Knowing how to prepare for and care for yourself before and after rhinoplasty is essential in ensuring the best possible outcome from the operation. In this article, you'll learn how to get ready for your rhinoplasty procedure to boost your chance of success.
Selecting a surgeon
The first thing to think about is experience: look for surgeons who specialize in rhinoplasty and have years of practice in this field. You should also check if they have any medical board certifications or extra qualifications showing they are highly skilled in their profession.
Make sure they have a good reputation by reading reviews from past patients or asking friends and family members for recommendations. Ask potential surgeons lots of questions prior to booking an appointment. Inquire about their approach to the procedure and how many procedures they've done before – this will give you an idea of their confidence level.
Also, find out what kind of anesthesia will be used during surgery and the aftercare plan once it's complete. These are all important aspects that will help you make an informed decision when selecting a surgeon for a rhinoplasty.
Understanding the basics of the procedure
Before undergoing surgery, discuss your options with a qualified surgeon. You'll want to make sure that you understand what is being done, as well as any potential risks or complications associated with the procedure. Your doctor will be able to answer any questions you may have and provide guidance on how best to prepare for your surgery.
It's also important to have realistic expectations about what rhinoplasty can achieve. While this type of surgery can improve cosmetic concerns, it cannot change your overall facial structure or make you look like someone else. Talk with your doctor about what results you can expect from rhinoplasty so that you won't be disappointed after the procedure has been completed.
Consultation
During the initial consultation, you should ask questions about the procedure, including risks, expected results, and recovery time. The surgeon can also provide information regarding cost. Depending on insurance coverage and other factors, it's important to understand what will be covered before making a decision.
This is the stage to discuss realistic expectations about outcomes. A qualified surgeon will take into account the patient's desired results and explain if those goals are achievable or not. Ideally, both parties should come away from the consultation feeling comfortable with one another and confident in the plan going forward.
Pre-procedure instructions from your doctor
Your surgeon will provide specific instructions based on the unique features of your surgery, but there are some general guidelines that all patients should keep in mind.
Follow any and all instructions that your doctor gives you before the procedure. They may ask that you stop taking certain medications or supplements a few weeks prior to getting surgery; this could include aspirin, ibuprofen, warfarin, vitamin E, and some herbal products. During your pre-operative appointment, make sure to ask about which medications can and cannot be taken around the time of surgery.
You may be instructed not to eat or drink anything after midnight on the day before the surgery. Make sure to come prepared with snacks and drinks for afterwards if that is one of your doctor's instructions. You will also want to dress comfortably for your surgery; wear clothes that can easily be taken off without being difficult to put back on later on in the day.
Sleep scheduling and medication instructions prior to surgery
It is important that you are well-rested before your surgery, as this can help expedite the healing process once it's over. Make sure to get a good night's sleep the night before and skip any energy drinks or caffeine after dinner. Do not consume alcoholic beverages within 24 hours of the time of your procedure in order to best prepare yourself for surgery.
You may also be prescribed or asked to take specific medications prior to your operation. These medications might include antibiotics or anti-nausea drugs. Be sure to take these on time according to the instructions of your surgeon.
Preparing physically for your nose surgery
Make sure that you are well-hydrated before the procedure. Drink plenty of water before and after surgery in order to aid the healing process; dehydration has been linked to slower recovery times and more complications during recovery from rhinoplasty.
Keep in mind that swelling is a normal side effect of any surgery, however, preparing yourself physically beforehand can help minimize this. To reduce this post-surgery swelling, be sure to get moderate exercise at least one week prior to surgery in order to keep your circulation strong and reduce the risk of infection.
Managing stress before rhinoplasty
Try to remain as positive as possible leading up to and throughout the process. If your rhinoplasty is being performed for cosmetic purposes rather than medical ones, remind yourself why this surgery was important for you – for example, if it boosts your self-confidence or helps you achieve greater balance in facial features. Positive thinking will go a long way in helping manage pre-operative stress levels.
Don't hesitate to speak with a professional counsellor or therapist about any psychological distress you are feeling before (or after) your procedure. They can help provide strategies for dealing with anxiety related to surgery and guide you through recovery afterwards in order to prepare yourself emotionally and mentally for rhinoplasty.
FAQ
How long will the rhinoplasty procedure take?
The complexity of the case in question will determine how long it takes. If a patient has some structural issues that need correcting or deformities that need addressing, extra time may be needed to complete the surgery successfully. Other factors like age and overall health can also impact the duration of the procedure; if a patient is older or has underlying health conditions, this could add additional time to the process.
On average, most rhinoplasty procedures can be completed within two to three hours. However, this does not account for any follow-up appointments or check-ups which may be necessary after surgery. It's important to factor in additional time for these appointments when considering your overall schedule for your recovery period.
What is the recovery time for rhinoplasty?
The first two days after surgery will be the most uncomfortable as pain and swelling are at their peak. Patients may experience some numbness in their nose, but this feeling should dissipate in about a week. After the third day, patients can expect gradual improvement each day; however, they should remain mindful of activities that could cause irritation or injury to the nose. It's best to avoid strenuous activities such as sports or heavy lifting for at least four weeks after surgery.
How much pain will I experience during the procedure?
Many people feel a certain level of anxiety about the potential discomfort associated with surgery, so understanding exactly what to expect can help to alleviate some of those worries.
Pain tolerance is a personal experience; however, there are some commonalities in rhinoplasty that patients should be aware of. Generally speaking, the majority of patients report only mild discomfort during their nose job procedure. Most surgeons use anesthesia and/or sedatives to ensure that the patient remains comfortable at all times and experiences minimal pain. The surgeon may also use additional numbing medications or injections to reduce any sensation during the operation.
Are there any non-surgical alternatives to rhinoplasty?
Fillers can be used to alter the shape of your nose without having to go through with a full rhinoplasty. Fillers are substances that are injected into specific areas of the face, including the nose. This is an effective way to smooth out bumps or irregularities in the nose and makes it easier to reshape without having to undergo surgery. The results tend to last for around six months before needing to be reapplied.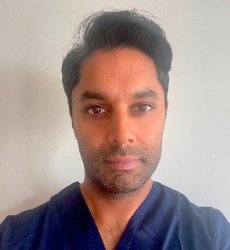 Latest posts by Sanjay Rai
(see all)